VMMissions church planter David Stutzman realizes that he can offer an incarnational witness of God's presence as he listens to the anxieties of the people with whom he relates in the secular context of Mannheim, Germany.
Hope is an interesting word these days. As I gathered my thoughts and reflections on the topic of hope, I honestly struggled with it. I was troubled, distracted by all the despairing things going on. Things feel somehow unglued. Uncertainty hangs about, as COVID-19 impacts our daily routines, menaces our livelihoods and even threatens lives. Unrest abounds in the streets and runs rampant online. Even in grander terms, there is a crisis of sense-making, a disruption that we are undergoing with the shifts in our norms, traditions, and worldviews. We have entered an uncharted post-this, post-that world. Even the volatile events of early 2021 on the grounds of the U.S. Capitol, somehow don't feel out of place with the currents and forces we see inhabiting the zeitgeist of 2020.
These are strange times. They leave us searching and asking questions. Indeed, they leave us looking for hope. So maybe it should be easier to write about hope. Yet, few of us today find it straightforward to talk about hope, especially to those around us.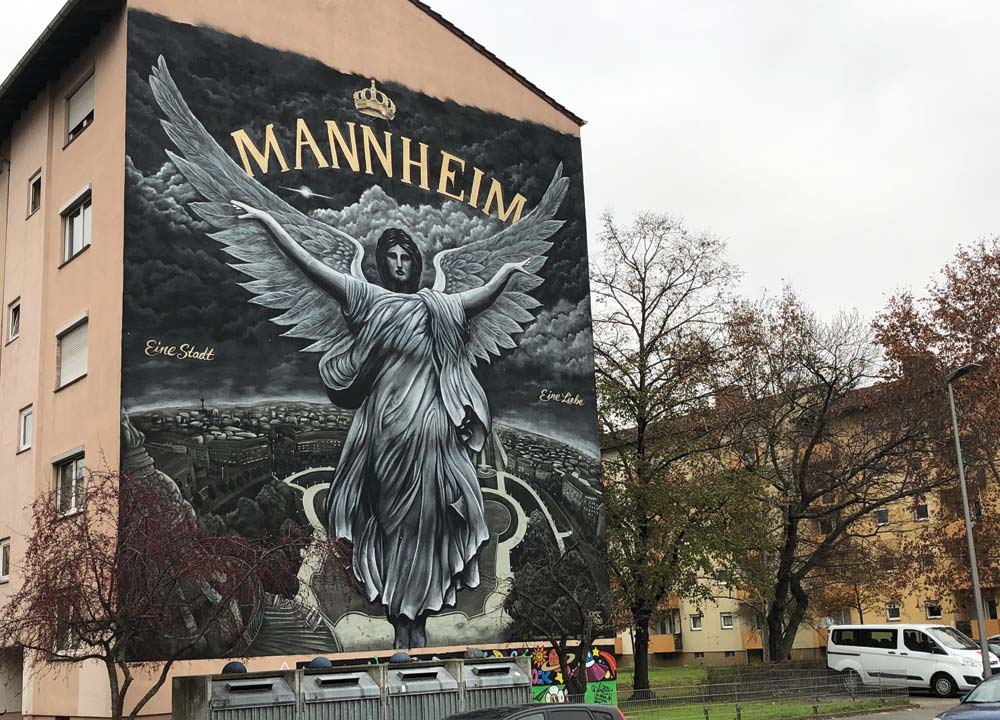 A mural of an angel over Mannheim, Germany, in the Schönau neighborhood, one of the poorest and most socially disadvantaged in Mannheim, with high unemployment and alcoholism. This is the neighborhood in which the Stutzmans are helping to open a new community center and family cafe. They are working in partnership with the Protestant church there, and their hope is to create community and hope for families. Photo by David Stutzman

Yet, talking with people is what I feel like I have had an abundance of this past year. I mean, really talking with people. As COVID-19 has restricted our ability to gather in our home, to meet as a church community, and curtailed our social interactions, the space for sharing that opened up has been quite extraordinary. The normal conversations with community, friends, acquaintances, school parents, shopkeepers, or neighbors have had a deeper quality. We still talk about family, work, sports, the news, or relationships; but the questions are more searching, the attempts at making sense of things are more earnest. People's worries, fears, frustrations, perplexities and burdens are more audible. There is more to make sense of.
I experienced that there is more of a space to talk about what is important and to ask more vulnerable questions. This space is sacred. And I have learned to treat it as such. In times past, people would have sought out the church or ministers for counsel and wisdom on life's questions. Today, rarely do people in a post-Christian society have that inclination to seek out the church. It just wouldn't occur to anyone. Yet, when I am talking to people, there is sometimes an underlying curiosity about what I, as a Christian, might have to share.
So, in these moments, when I sense that we are talking about more than just the surface issues, I take the time to listen and to discern my role as a witness to Jesus Christ. Mostly, I do so softly, sharing my perspectives on how I live my life and what I believe. Sometimes, I offer the wisdom and counsel present in the scriptures. More often, I offer to take their concerns or worries into prayer. These are genuine moments. My goal is not to articulate or persuade but rather to convey my hope in Christ and sense of purpose authentically. I have been able to share more about my faith precisely because of the shared experience we are living through this past year, and precisely because of the encroachment of worrisome and fearful things.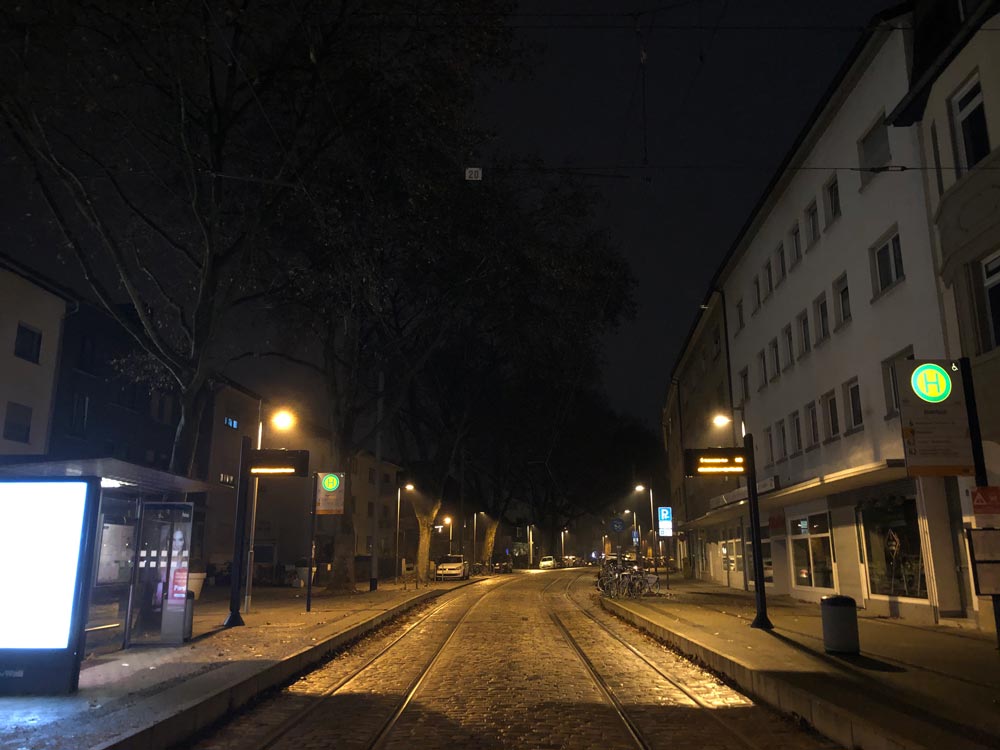 David and Rebekka Stutzman's street at midnight on New Year's Eve in Mannheim, Germany. Normally, the street would be alive with people and fireworks, but was completely quiet and still because of COVID-19 restrictions on celebrations. Photo: David Stutzman

During the Advent season, I had occasion to ask several friends within our church community about their observations of how hope is understood in our modern society. What gives people hope? What do people understand hope to mean?
Themes kept emerging. People hope to be happy. Thus, they pursue wealth, success, excitement in life or adventure. They pursue fulfillment through romantic relationships. They avoid or try to minimize hardship or pain. What one can hope for is happiness in this life—one of comfort, excitement, romance or minimal suffering.
I also asked the question, what is hope for us Christians? I liked the answer given by Thomas, a young student in Mannheim: God is near and always will be. He cited Deuteronomy 31:8 (NASB): "The Lord is the one who goes ahead of you; He will be with you. He will not fail you or forsake you. Do not fear or be dismayed."
Thomas said, "In God being near, God knows me and understands me. My hope is that I will continue to meet God also in the times of suffering or pain, for God understands and knows suffering."
Like Thomas, I have learned that I have a different starting point and expectation for what to hope for in this life. Life doesn't promise to be absent of hardship, pain or suffering. That things will be made right is something that may happen in my lifetime or not, but I trust that God is at work, reconciling the world to himself. I place my hope in the fact that God is near. This hope is not something I can manifest myself or bring about with my own volition. The hope is in the work of God. Something beyond me. The hope I have means I can live my life as a follower of Jesus, taking part in a grand story that goes well beyond me.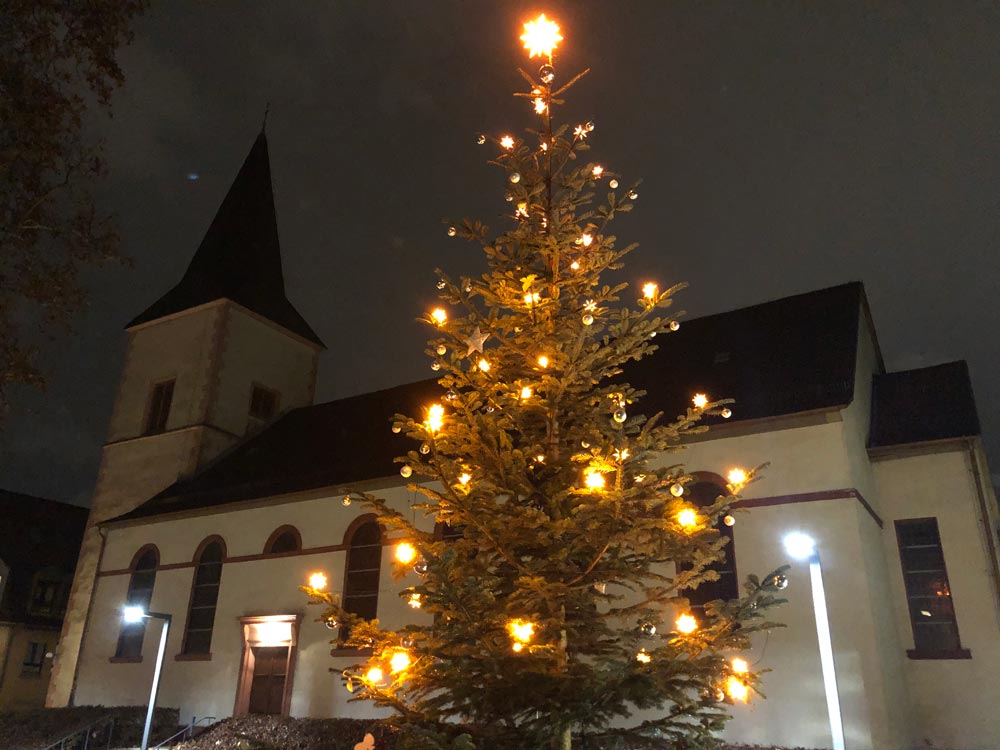 A Protestant church in Mannheim, the church where David and Rebekka's friend was confirmed at as a boy. In post-Christian Germany, most people don't go to churches for answers any more. Photo by David Stutzman
If we gain hope from God's nearness, then being near to others is a way we can incarnationally share that hope with others. Particularly in troubling times, when the world seems upside down, we have a chance to practice presence with people. It is entering that space with people—with humility and patience, in confidence and faith—that we have a unique message of hope that is suited for the strange and difficult times we are in.
What gives us hope? God is near. God is at work in this broken world. There is hope for peace, salvation and the reign of God in the age to come. We want to hear God speaking to us, "I am present. Do not fear or be dismayed."
Filed in: All posts, Transforming