A journey of mutual sharing and prayer
Posted on April 3, 2013 by VMMissions Staff
It was more than just an ordinary afternoon of coffee, cake and conversation as ladies gathered recently at Lezha Academic Center (LAC). Instead, it was another stepping stone in principal Klementina Shahini's vision of sharing God's love with the women of Lezhë, Albania.
Chatting together around the cafeteria tables were mothers, students, church members, the pastor's wife, and LAC principal and teachers, support staff, cook and custodian. Supplementing the LAC cook's trademark banana cake were goodies brought by guests. One senior's contribution of a specially ordered tres leches cake was lovingly shared with her teachers and classmates. Another senior proudly showed the letter she had recently received from EMU's Admission office.
This ladies' afternoon was the first time women from Guri i Themelit (Cornerstone Church of Lezhë) met with the mothers, students and staff of Lezha Academic Center. After several hours of informal sharing together, the meeting was brought to a close by Klementina as she explained that at LAC we like to pray for each other when we have special needs.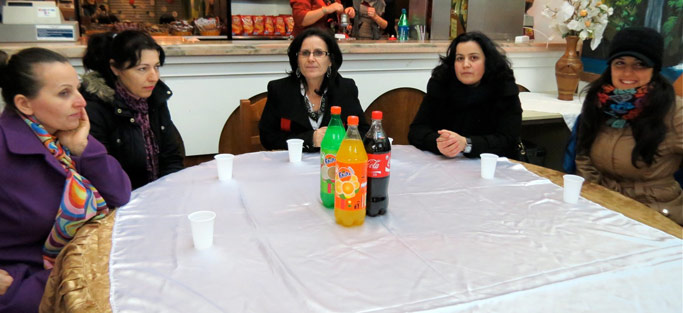 Women from the Cornerstone Church of Lezhe meet with mothers, students and staff of LAC.
In our group were three seniors who would soon be taking their TOEFL test, a part of the procedure for acceptance in a university abroad. The entire group joined hands and surrounded these girls as Solange Tartari, wife of pastor Rafael, prayed for the girls and their futures. Tears filled the eyes of one student as the prayer ended and she was embraced by her friends. The following day her attendance in church and her sincere questions are reasons for celebration. It was truly a very special evening. God is building His Kingdom in Albania!
.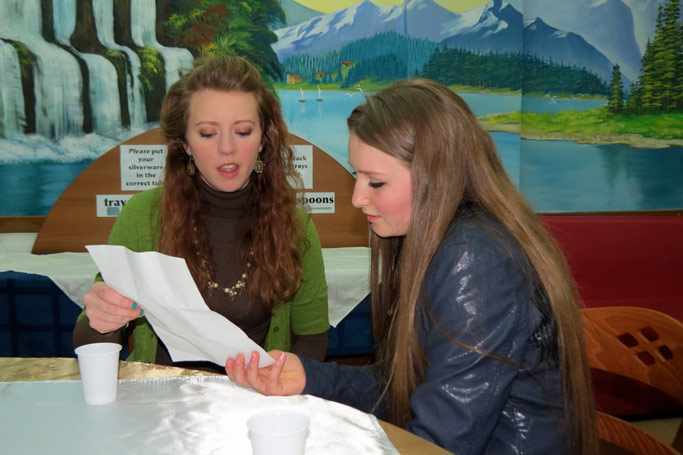 A senior showed her teacher, Jessica Hedrick, VMM worker at LAC, (left) her letter of acceptance from Eastern Mennonite University.
Photos courtesy of author
Filed in: All posts