It was so rewarding for us to have "our children" sing for and with the EMHS choir. The ending benediction in which the children came out to the choir circle and joined hands had special meaning, as their benediction words were directed to the gypsy children they had played with all afternoon.
As goodbyes were said, many choir members were in tears and one commented, "I don't know how you can leave these children when we're having trouble saying goodbye after only one afternoon.
.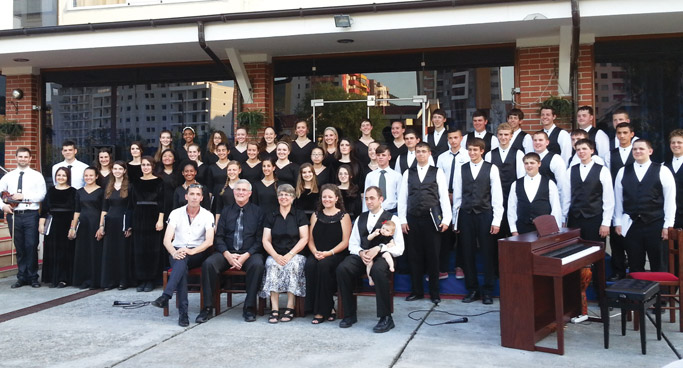 Jay and Sheri Hartzler (seated, in center) with the Eastern Mennonite High School Touring Choir and the new Lezha Academic Center choir (directed by Lisa Mast, who is seated to right of Sheri Hartzler.) These two choirs performed together and learned from each other in a special concert. Photo courtesy of author
.
After a "free day" in Sighisoara we were ready to move on to the towns of Cluj and Resita. The hosts in these cities were Baptist churches. The service included two firsts for us: I (Sheri) directed the choir in a song and Jay preached!
An excerpt from his message: "This past year I learned that God didn't require me to have extraordinary talents. God didn't require me to do anything I couldn't already do. God wanted me to love as Jesus loved, regardless of who I was working with: church people, high school students, Roma children—they all responded to love. The choir came to Romania to sing; my wife and I came to serve. What we learned is that we are the ones who have been served. We are the ones who have been blessed by your love and by others who have touched our lives. We have been blessed as we share a common faith in God."
Jay & Sheri Hartzler are wrapping up a year of service in Romania. Recently, they traveled with the Eastern Mennonite High School Touring Choir, introducing them to the community and people they have been working among. Read the full blog post at: romaniannotes.wordpress.com/2014/06/
Filed in: All posts