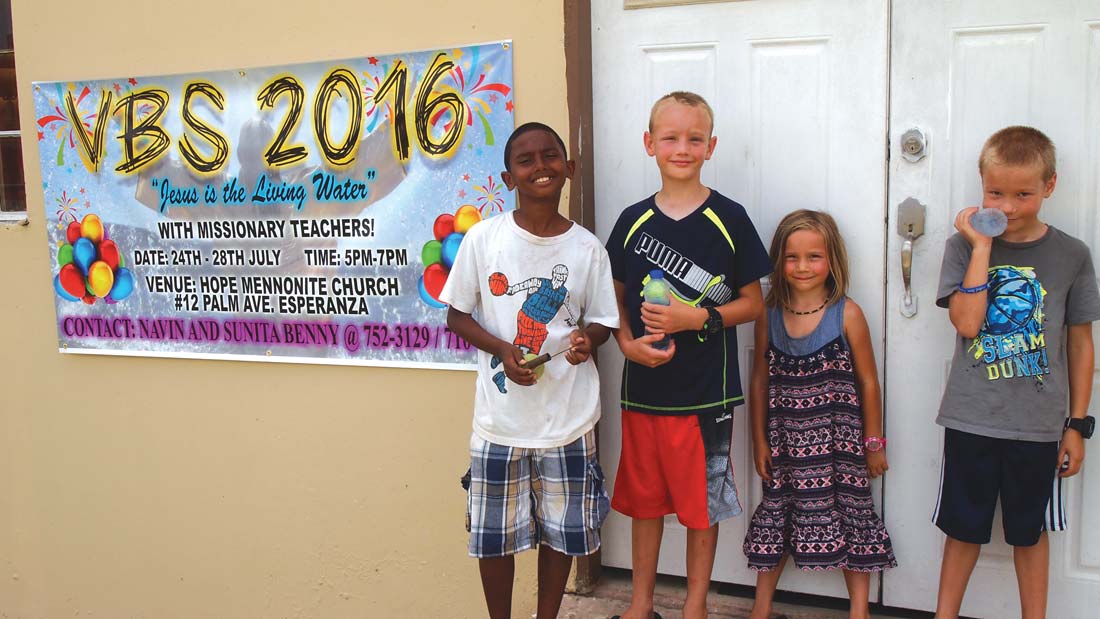 Kern (left) with new friends Elliot, Annaliese, and Vincent Rhodes in Trinidad in 2016. Photo courtesy of Martin Rhodes

By Martin Rhodes
Then the righteous will shine like the sun in the kingdom of their Father. He who has ears, let him hear. The kingdom of heaven is like treasure hidden in a field. When a man found it, he hid it again, and in his joy he went and sold all he had and bought that field. (Matthew 13:43-44)
As a child, I loved treasure hunts. Our parents would take us into the mountains to a cabin that we frequented in the spring and summer. A highlight of those trips was when our parents would hide small treasures and turn us loose in the wild to find them. We would scour the pump house, search under bridges, turn over rocks and eventually find the hidden treasure with shouts of joy and "Look what I found!"
Almost as fun as finding my treasure was continuing to search in order to hide the knowledge of the treasure from my siblings and to share in their joy when they found it. These treasure hunting days with my parents and siblings still stand out clearly to me after all these years.
I have continued this tradition with my three children and they now share in the delight and thrill of the hunt and discovery. In doing so, I am hoping that my children get a glimpse of what the Kingdom of Heaven is like as revealed by the scriptures and the church.
Discovery, amazement, wonder and joy are all unmistakable markers of those who have discovered the Kingdom of God made flesh in the person of Jesus Christ. More important to me than all the trinkets in the world are the stories that my parents shared with me of the good news of the gospel and the way that Christ was present in our home, bursting at its seams with creativity and seven children! Their illuminating witness prompted me to discover the treasure of Jesus for myself.
When I think of what it means to be a family on mission, I am inevitably drawn to the thrill of discovery. "But seek ye first the kingdom of God, and his righteousness, and all these things will be added unto you" (Matthew 6:33). To seek means to engage the world that God made, to open-handedly receive the gifts that God pours out on us and the world he loves.
Our family tries to embody this attitude of daily seeking as we participate in our local church and in our home community roles as students, teacher and discipleship coach.
But also, we find ways to engage cross-culturally, and to thereby discover the richness of the world that God created and loves. Several years ago, my wife Sylvia and I and our three children (aged 9, 8 and 6) were part of a VMMissions team to Trinidad to partner with the local Mennonite church in neighborhood outreach and vacation Bible school.
My children quickly became fast friends with the grandson who was staying with our host mother for the summer. Kern led our children through a voyage of discovery of native animals, plants, foods and geography where frequent exclamations of "look" or "wow" rang out through the hot air.
As we prepared to leave at the end of eight days, Sylvia mentioned another wonderful discovery to our wise hostess. "A week earlier we were strangers; now we are friends." This wise woman quickly corrected her. "We were never strangers, only sisters and brothers in Christ."
Yes, thank you Sister Chandra and Kern for graciously sharing your home and life with us across the boundaries of language and culture. As a son whose parents helped me to discover the boundless love of God, I cannot as a father help but continue to seek, find, and invite my children—and many others—to join me in the wild hunt.
Filed in: All posts, Transforming