Juan José Lagos works with his wife Cecilia as church planters in Winston-Salem, N.C., with VMMissions and Tennessee Carolina Kentucky (TCK) district of Virginia Mennonite Conference.
We met Selenny and her son Cristian through Gladys, who is a member of our church. As his teacher assistant, Gladys sensed that Cristian needed extra support with his school work and reached out to us as a church for help.
Ceci began to help him with his schoolwork; we began to build a relationship with them both. Soon, both Selenny and Cristian gave their lives to Jesus. We began to disciple them and attend to various needs. Selenny has been battling health problems. Her work hours have been reduced by 50% due to the pandemic and she lost her car in a car accident.
As a community of faith, we have come alongside her through this tough time, providing financial help for her needs, praying with her and many times driving her to medical appointments and to work. Nidia and Beto helped ease Cristian's stress of confinement by taking him on bike rides. We meet virtually with her twice a week for Bible study.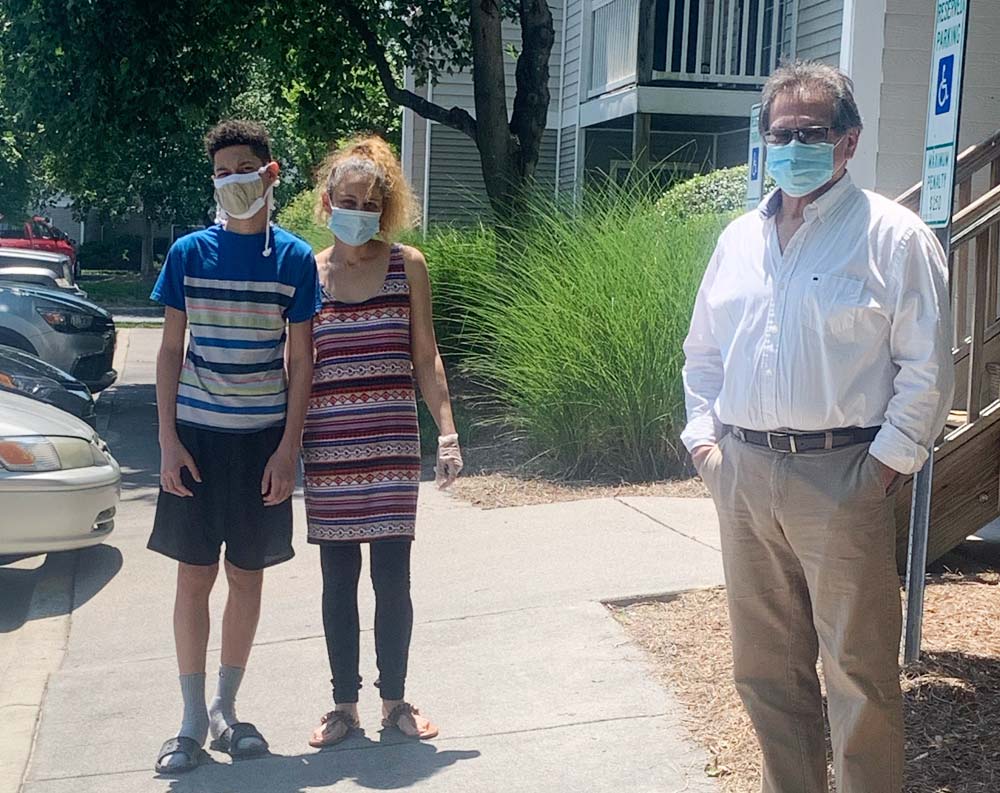 Pastor and church planter Juan José Lagos (right) with Selenny and her son Cristian. Courtesy photo
Recently Selenny sent a thank you note to us that said:
"I would like to thank you for the time you take to give us the message of God through a Bible study, both for me and for my son Cristian. From the first moment we started with this study, we feel closer to God, we face problems with a better attitude, and we have a clearer idea of how God works with human beings. We can better interpret the way our Creator speaks to us. We have better defined the actions that we must do to please God. Most especially, it has helped us to react better or to think more than once before doing or saying anything that might offend God or harm another person. In this sense, we are grateful for the valuable time that you have dedicated to feed our souls and educate us spiritually. I include you in my prayers so that God continues to bless you and give you the necessary strength to continue with such a beautiful work and to give you a long life in the service of the Lord Jesus. Amen and thank you."
We see hope in Selenny and Cristian's life; we see Jesus, our hope of glory in them!
Filed in: All posts, Transforming