Grace Mennonite's mission to the Philippines
Posted on August 20, 2014 by VMMissions Staff
Over thirty years ago, Larry Vitor, a young, hopeful Filipino pastor picked up an article written by Pastor Richard Early, and he decided to write a letter requesting that Richard be his prayer partner. Richard wrote him back, and this journey began.
Richard is now pastoring a growing community church, Grace Mennonite Fellowship, in Lacey Spring, Va. Grace is a congregation of people from all walks of life who have a keen
desire to be agents of change and reach out to areas both local and abroad.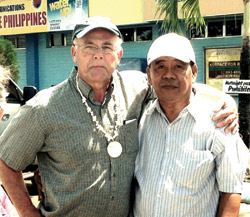 In 1989, the Men's Fellowship Group of Zion Mennonite Church in Souderton, Pa., (of which Richard was the pastor), sent financial aid to Larry so he could attend seminary. Larry pastored The United Church of Christ, Philippines, for six years. In 1999, Larry and his wife started an early learning center in Alipao. It was accredited in 2014 and is now called Mennonite SDN Learning Center, Inc.
It is here that the children are being taught about God's great kingdom while being academically nurtured and better prepared for school.
The center was established after identifying a need for public school preparation. Children were dropping out of school due to their inability to keep up. The center currently offers two preschool classes, with over 50 children in attendance. The percentage of children who have graduated from high school has soared above national averages. This center is a place of hope, love and progress.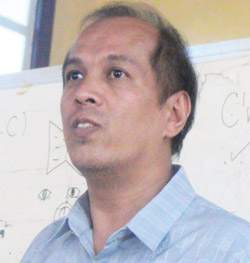 After years of functioning on donations from Grace Mennonite Fellowship, it has become clear that this Filipino community would greatly benefit from generating its own source of income.
On April 29, I, along with Richard Early, Carol and Skip Tobin, teamed up with Richard Rancap, a Filipino pastor and teacher, who served as a consultant, interpreter and guide as we explored funding options. He was of great help in logistics as well as solidifying deeper understanding between us and our Filipino counterparts.
Carol Tobin, Asia Regional Director for VMM, served as a facilitator during our meetings, asking hard questions with grace and spiritual direction. Her years of experience and cultural acumen helped our team grow as one body with one goal—to help Alipao further God's kingdom by taking steps towards financial independence. She specifically guided our meetings by better organizing and identifying the Learning Center's needs, purpose and function.
.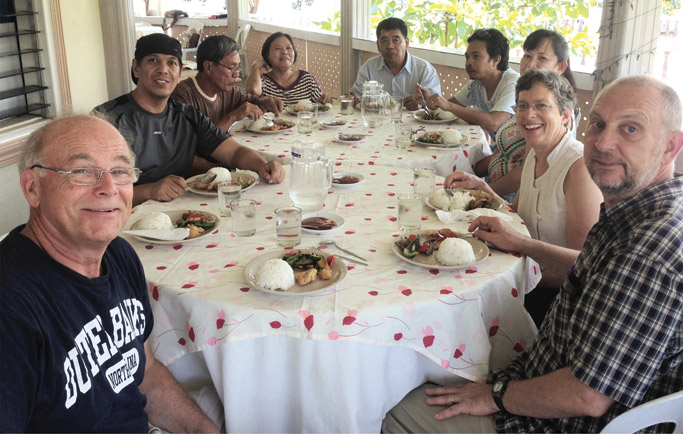 Pastor Richard Early, Pastor Richard Rancap, Adriano Leonor, Ruth Vitor, Larry Vitor, Jeric Vitor, Joji Pantoja, Carol Tobin, Skip Tobin. Photos courtesy of author
.
Skip Tobin, Global Ministry Associate for VMM, offered a broad view from his years of experience serving in missions. He aided in the problem solving process as we deepened our conversation. He utilized his vast expertise and cultural familiarities to lead discussion and analyze the needs, offering relevant ideas, direction, reflection and prayer.
I was led to travel to the Philippines with my pastor because he saw tremendous opportunity for online business development. For the past two years I have been growing my own Etsy online business.
We worked together to see what kind of product would make sense for this community. After many meetings, the Vitors liked the idea of developing a baby hammock made of various malong materials. The hammocks will be portable and also work as a sling and swing. A feasibility study is now being created for Hammocks of Hope. Our hope is to help them bring to life a source of income and business that will be all their own.
.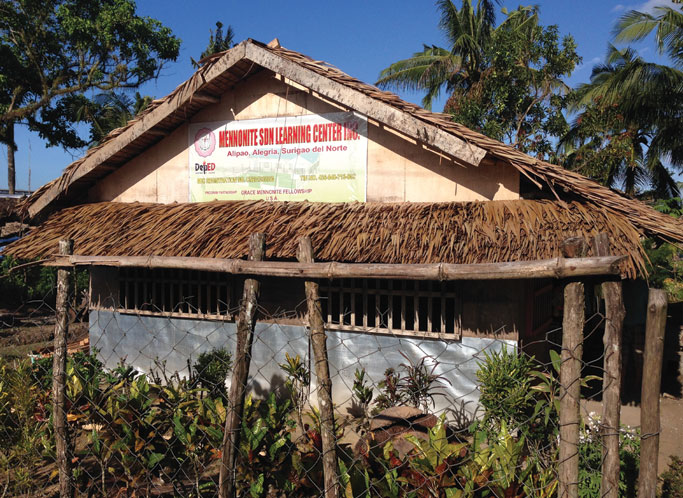 Front view of the Learning Center in Alipao. Photos courtesy of author
Filed in: All posts