Rearview Reflections: Clair Good
Posted on March 1, 2022 by Jon Trotter
Pastor and VMMissions board member Clair Good reflects on lessons learned and unlearned in over a decade of ministering among the Maasai in Kenya.

By Clair Good
As a young missionary, I was full of zeal to save the "unreached" Maasai of Kenya. I assumed they knew nothing of God. With great conviction and enthusiasm, I offered answers to questions the people I was trying to reach were not even asking. I was met with resistance and had little success in convincing people to follow my religious views.
I was surprised to learn that the Maasai people already knew God and had a deep spirituality. They were asking different questions than the ones I assumed they would have. I came with a message of freedom from their sins. Yet, they informed me of their deep cultural and religious longing to reconnect with God. They grieved the pervading sense of alienation from their creator.
While studying the language of the Maasai host community I was forced to listen. I needed to learn their words, their meanings and the way they put their thoughts together linguistically. I was surprised to discover that they had thought patterns and word descriptions that I found to be superior to my mother tongue. Imagine my surprise when my language helper informed me that there was no past tense for the word "love" in the Maasai language. This had huge positive implications theologically.
Likewise, the more I observed, the more I became convinced that the local social system was superior to that within my culture. I noticed beautiful examples of reciprocation. Elders received care while offering child care. At the same time, they passed their knowledge and wisdom on to the next generation. There came a day when I wondered if I was from the lost community, and they were the people with answers to my culture's challenges.
As a foreigner, I was perplexed by some cultural practices. The practice of polygamy and female genital mutilation (FGM) seemed reprehensible in my worldview. As the good news began to take root within the community, the new believers began to ask themselves questions about their cultural practices. Surprisingly, men with more than one wife began to give advice to the next generation about loving their wives as themselves. The practice of multiple wives decreased drastically in one generation. Their understanding and wisdom in dealing with this issue left me in awe. Though I thought I knew why Paul wrote Timothy, encouraging him to choose elders who had one wife, I realized that their understanding was deeper than mine.
My respect swelled as I watched the women reflecting on their FGM "cutting" ceremony. Women were typically devalued in this very patriarchal society. But this ceremony had aspects of honoring the young woman, something they saw mirrored in Jesus' honor of women. So, instead of abandoning their ceremony completely, they enhanced the honoring, but stopped the cutting. Today many Maasai women go through a modified blessing ceremony honoring the girl child.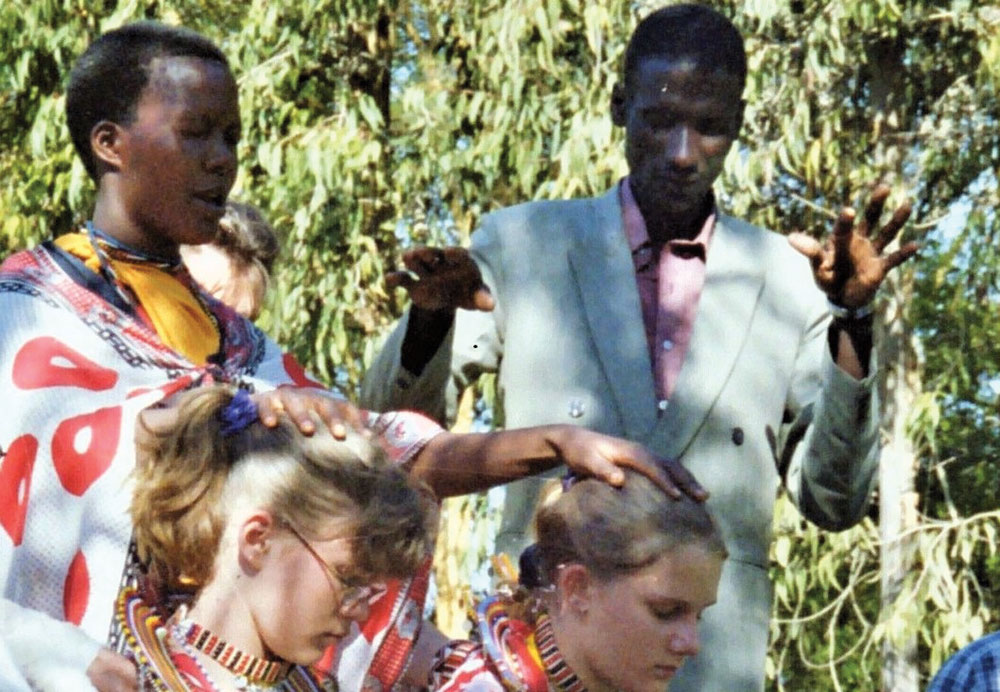 Hannah and Esther Good (center) are blessed by Mrs. Naimodo and David Shunkur from Olepolos Mennonite Church as part of an alternative blessings ceremony hosted by the Olepolos Community. This filled a void the author sees within North American culture. Photo courtesy of Clair Good
---
Today I am a pastor in the United States. There are many challenges I face in my culture and community. Can I behave like a missionary in this setting and listen and ask questions? My Maasai brothers and sisters hungered for relationship with God. They embraced the good news that Jesus made a way for them to reconnect and have fellowship with God again. Am I listening well enough to hear the relevant questions of my community here? Am I able to hear God's response to questions that may seem unanswerable in my limited theological mind? How do I continue to be a missionary listener?
More of this story can be read in Is Your Pastor Saved Yet? by Clair Good and Esther Good, Masthof Press.
---
Clair Good is pastor of Waynesboro Mennonite Church, Waynesboro, Va., and serves on the VMMissions board as Southern District Representative.
Filed in: All posts, Transforming