Worker Profile: Elena Buckwalter de Satalaya
Posted on May 4, 2020 by VMMissions Staff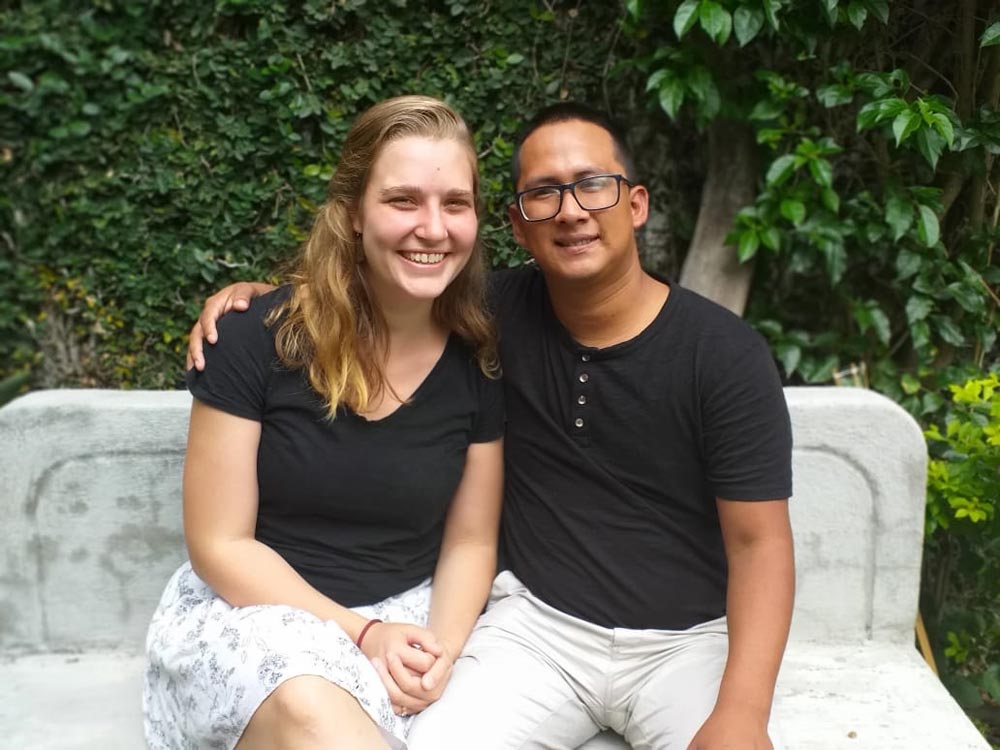 Elena Buckwalter de Satalaya and her husband Freddy. Courtesy photo
Service program: tranSend
Assignment:
My husband Freddy and I are working with the Iglesia Cristiana Menonita, in Iquitos, Peru, focusing mostly on bringing young people on an island community along the Itaya River to a personal relationship with God. Since the community is quite poor and has very little access to quality education, my husband Freddy and I teach basic, very interactive classes such as English, choreography, reading, and math to the children. On weekends we have children's ministry and youth group.
Biggest challenge:
Teaching in a way that is both educational and exciting enough to keep children who are often quite undisciplined intrigued for the full hour to two hours of class! As in many other river communities in the area, the concept of time and time commitment here are quite relaxed. In school, children are accustomed to going in the morning and staying as long as they feel like it, before leaving class to go fishing, play soccer, or help their parents work. Lately we've been working on the concept of class as a one hour commitment. If children want to take part in the games and activities at the beginning of class, they must stay for the hour of class unless their parents call them to go home or there is some sort of emergency. It's slow going because we're challenging a long-standing mindset, but we see encouraging glimpses of progress.
Biggest joy:
At the beginning of our assignment, we made a list of goals for our 18 months in Iquitos. Among the concrete, measurable goals, we wrote down one that was a bit more abstract: "establishing relationships of trust with the kids and youth so that we may know their lives and share deeply with them in their joys and difficulties." We've found that one of our greatest joys has been carrying out this goal. As we've grown in our relationships, they've begun sharing snippets from their lives with us. And, of course, after sharing with us about their worries for a sibling who is traveling for work, or a parent who is having a baby, they'll frequently have questions for us: who fell in love with who first, if we fight at home, what we think of each other's families, etc. There is such beauty in these relationships that are being built!
A typical Saturday:
Despite it being hectic and stressful, Saturday is our favorite day. In the mornings we have children's ministry, which first involves several hours of going door to door inviting kids to come for the singing and dancing to praise songs, the group games, and a Bible story. In the afternoon we come back to the island for youth group. These kids, ages 11 to 16, understand scripture more deeply and can grapple—often over popcorn or sandwiches—with how it applies to their lives. We are so privileged to walk alongside the kids and teens in their everyday lives, and to see the ways God is capturing their hearts.
Filed in: All posts, Transforming