A New Roof for Rosa
Posted on April 24, 2020 by Jon Trotter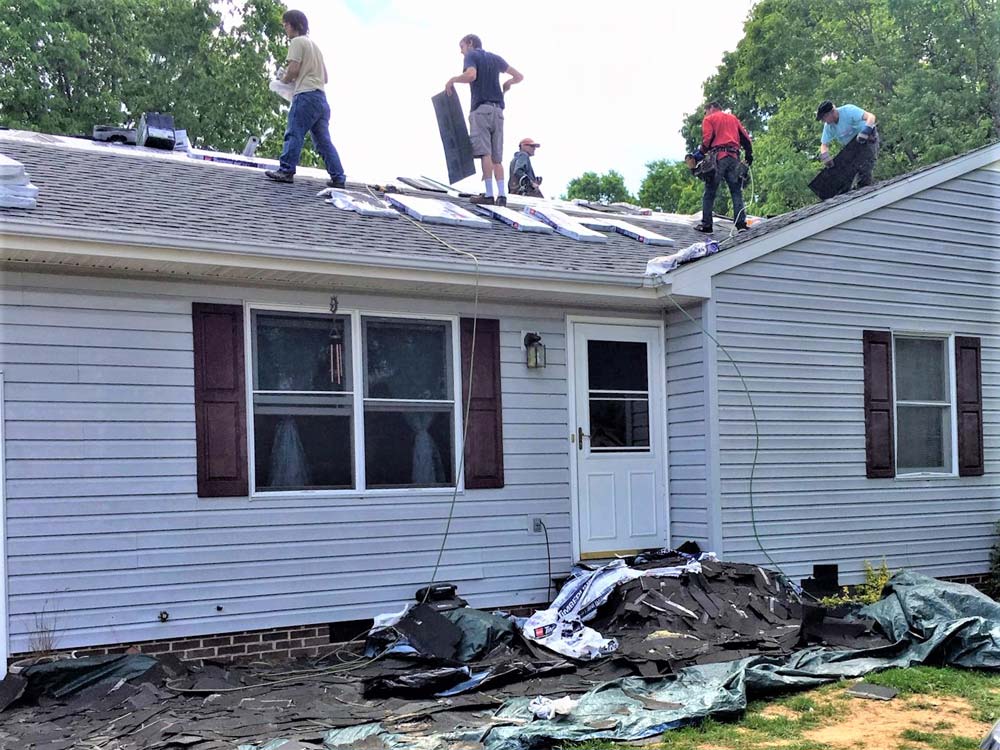 Volunteers from Springdale Mennonite Church and Iglesia Shalom Nuevo Comienzo put a new roof on Rosa's house. Photos courtesy of Sharon Shenk

As told to Carol Tobin by Sharon Shenk
The story began in the summer of 2017 in the parking lot of Springdale Mennonite Church. The gift arrived in the form of Rosa, an outgoing, enterprising, yet very needy young woman. She pulled into the parking lot that morning prepared to make an unusually direct appeal to whomever she might encounter there: "Can I be part of your church?" In asking this, Rosa didn't realize that she was giving a timely opportunity for the church to join Jesus in "doing good," and to engage a core element of their identity as church.
Rosa was raising her three children who had been abandoned by their father. She and her live-in boyfriend struggled to pay her mortgage. Though the children's grandmother wanted them at Catholic services on Sunday mornings, weekly Kids Club at Springdale became a place for the children to connect. Rosa also found her niche in the church community, by helping in the kitchen.
As the months passed, Sharon recognized the gift that she herself had to give—that of simply accepting others and being willing to relate across significant differences.
Pressures mounted. Rosa's undocumented boyfriend was arrested, jailed, and deported back to Mexico. Her twin brother Manuel* moved in, bringing along his issues with alcohol. But hospitality between the two families began to flow.
Sharon and her husband Allan made it a practice to open their home to the family, despite the children not being particularly easy to manage. Sharon was both blessed and stretched when Rosa threw her a birthday party in which the women were occupied in the kitchen making tortillas and the men were occupied in the living room, drinking.
The church community began to function as a broad community of love. Networking led to an employment opportunity for Manuel. More costly commitment was needed to provide him with transportation to and from his work. Another member of the congregation incorporated Rosa into a regular Bible study she hosted for a number of other single mothers.
In February 2019, VMMissions church planters Armando and Veronica Sanchez conducted the first meeting of the new church plant, Iglesia Shalom Nuevo Comienzo, in Waynesboro. Sharon invited Rosa to the meeting, enabling a new Spanish-language discipleship relationship to begin between Rosa and Veronica.
When it became apparent that Rosa's house needed a new roof, Armando was ready to add his roofing skills to the energy already present in the Springdale and Waynesboro Mennonite churches. This led to a productive work day in which these congregations came together to give the house a new roof. Here was a literal sign of the strong new covering of love being offered to this vulnerable family—God's love extended through a community beautifully prepared by God for the task.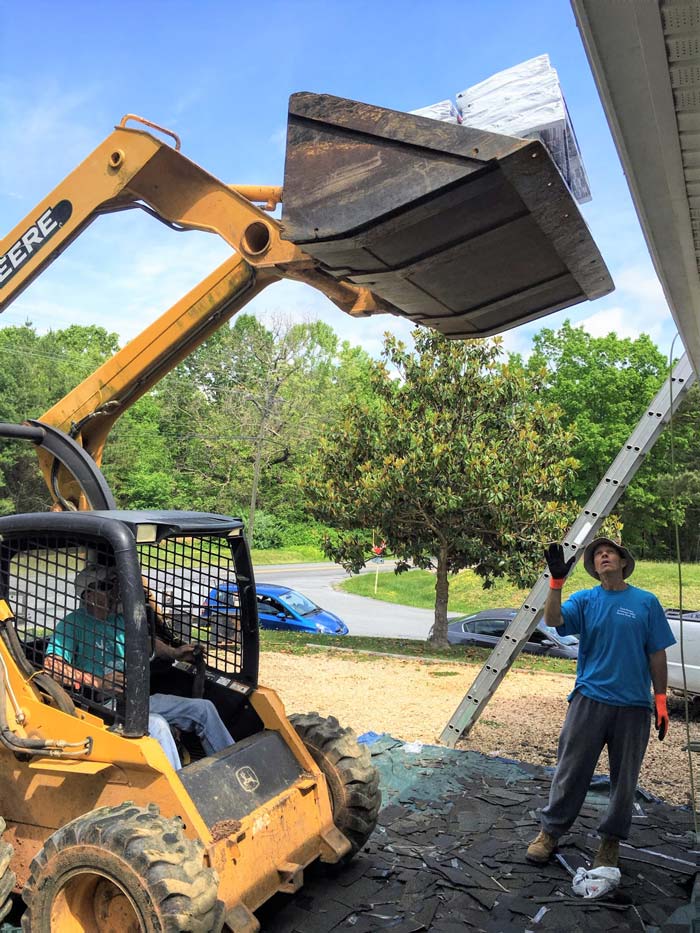 Volunteers use equipment to raise shingle packs to the roof.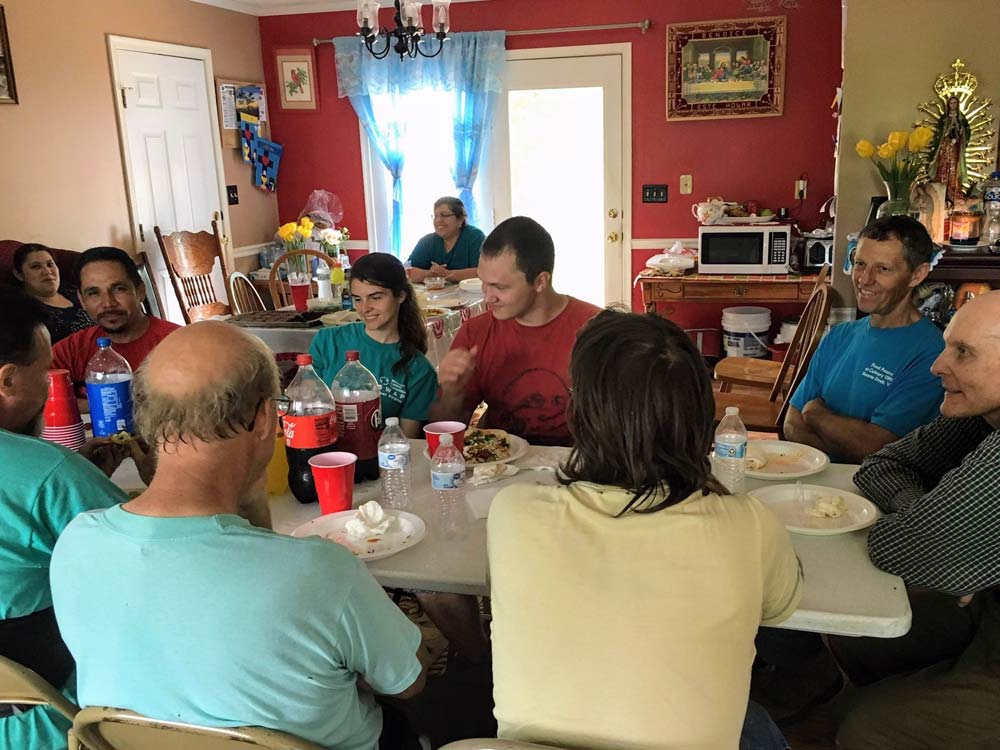 The roof work volunteers share a lunch prepared by Rosa.

Sharon is quick to note that all who have become connected with Rosa have been given the joyful opportunity to be part of a story of transformation. When the fall brought another challenge into Rosa's life, Sharon was thrilled to see things she never could have anticipated: honesty, trust, courage, deep conviction, and gratitude.
At a recent Latino Ministries celebration, there was Rosa, with a smile on her face, cooking and helping to serve the dinner as a gift to the community that reached out to her in a time of need. This story is about more than people helping people. It is about God doing the more important kind of good work—transformation—that only God can do.
* Names changed for privacy
Filed in: All posts, Transforming