A true presence for the Kingdom of God in Albania
Posted on December 5, 2012 by VMMissions Staff
Flying into the beautiful mountains of Albania on October 11, we knew we were there for a new kind of mission. Esther was asked by the board of Lezha Academic Center (LAC) to stimulate an interest in an art program in the school. Myron was asked by VMM to meet with church leaders and speak in churches.
We were welcomed by LAC principal, Klementina and Dini Shahini, Allen Umble, VMM mission worker, and three students in their blue and white uniforms greeting us with lovely flowers. The next day, Esther met with group of mothers of LAC students, introducing them to the God-given gift of creativity and giving examples of how God uses art in the lives of persons. Their warm response was most gratifying. The following day Klementina and Esther met with artists in the city.
Monday Esther met with the whole student body, expressing her calling as a Christian artist through a power-point presentation. The following three days Esther met in two-hour class periods, each involving half the student body, introducing water-color painting and guiding the students into creating lovely paintings, followed by two-hour periods of working with clay.
Two of the teachers sent by VMM joined each of the classes to help and get involved in painting and sculpting with the students. It was a joy to see them excitedly exploring both paint and clay.
The first Sunday we attended the Lezha Mennonite Church where Myron preached to a warm gathering of people. He met several times in the two weeks with leaders of four different churches in Lezha, including the Mennonite, challenging them as interpreters of a biblical faith and answering questions. He was the school's first-time chapel service speaker.
We were very impressed with the dedication of the church leaders, Dini Shahini and Rafael Tartari and our friend, Allen Umble. The five very fine LAC teachers are working hard, identifying well with the people and culture, and giving tirelessly of themselves in God's service. They are Caleb Benner, Justin Rittenhouse, Jessica Hedrick, Kaitlyn Bontrager and Ermal Zylaj (an Albanian-American).
Our last Sunday was an exciting time as four different churches which include around 150 persons met together in the main room of LAC for morning worship. The Mennonite group led the singing with accompanying instruments from a different congregation and another church provided a four-girl dance troupe in red long dresses leading the congregation in praise. Myron preached and Klementina translated. A light lunch followed in the court-yard. It was a warm and stimulating time together.
We were able to spend two days in Tirana meeting with the church leaders there and also with an artist friend of many years and her brother who is country official and lawyer. They introduced us to the Vice President of the country and several other officials to talk about the possibility of creating a peace sculpture for the city. This was exciting!
In these two weeks we surely saw God at work in the school and the church, a true presence for the Kingdom of God in Albania. We are grateful for this opportunity to see it.
.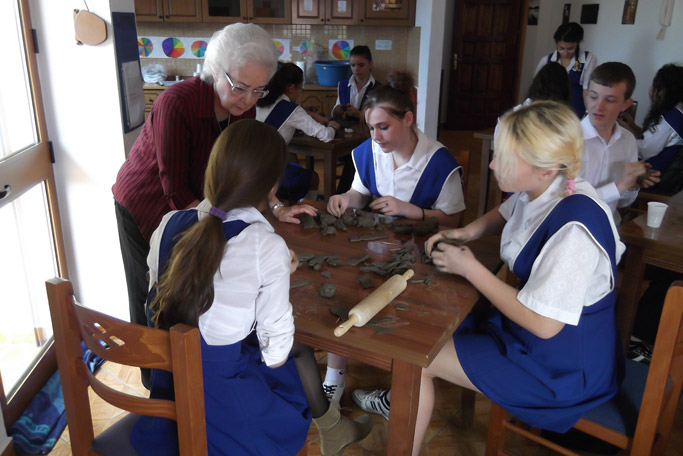 Esther Augsburger helps students work with clay in a pottery class.
.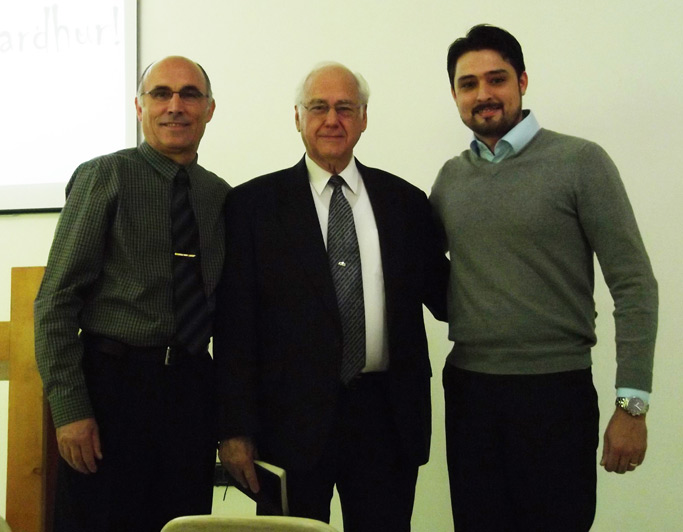 Myron Augsburger joins church leaders Dini Shahini and Rafael Tartari in discussions of leadership. Photos courtesy of author
Filed in: All posts