Bike Shenandoah Riders Pedal in Memory of Steve Leaman
Posted on September 29, 2020 by VMMissions Staff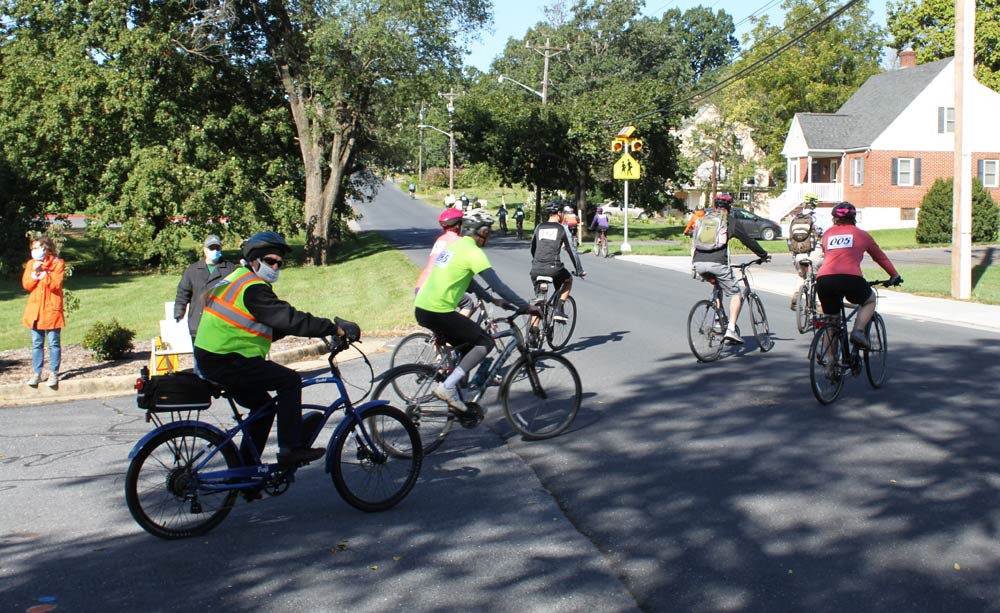 Bike Shenandoah riders depart for the 15-mile ride. Photo: Jon Trotter

On a crisp, sunny September morning, the largest number of riders in Bike Shenandoah's 22-year history rode in memory of Steve Leaman, a beloved former principal, educator, and VMMissions staff member. The 133 total riders chose among four rides between 5 and 62 miles to raise money for six non-profit organizations. As the first hardy group embarked on their 62 mile journey at 7:30 am, the thermometer read 44 degrees at the VMMissions parking lot.
Among those encouraging the riders as they gathered to begin the rides (masked and social distancing) was Dr. Leaman's widow, Doris. Many of Leaman's family members, friends, former students, and colleagues rode in his memory.
Because Leaman was a staff member of Virginia Mennonite Missions at the time of his death on April 5, 2020, VMMissions received an extra share of the proceeds, some of which is designated for the Stephen R. Leaman Memorial Endowment for Missions.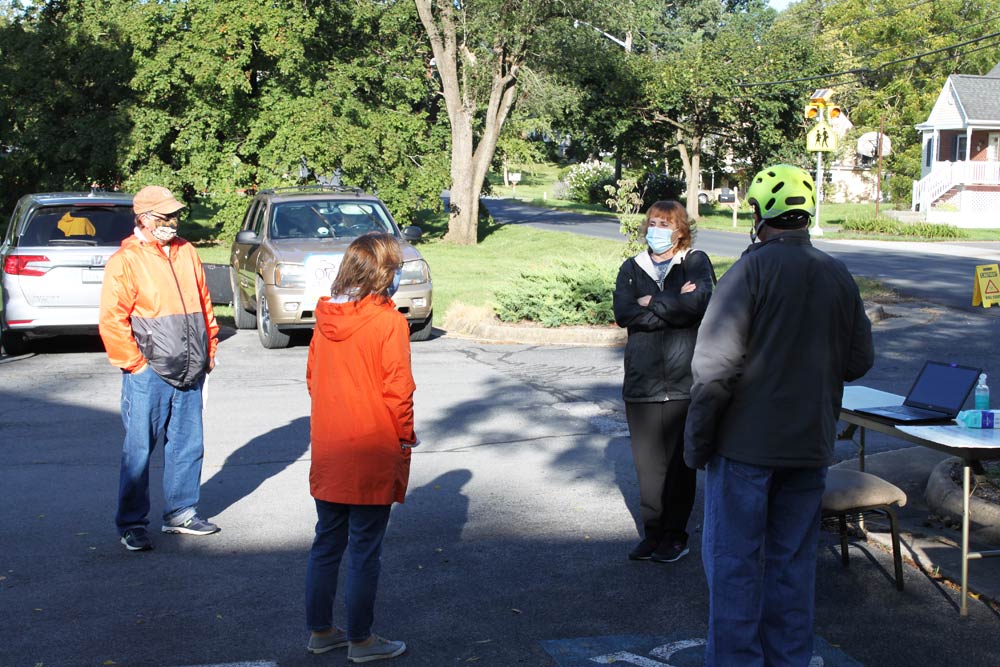 Steve Leaman's widow Doris (second from right) encouraged the riders. She is speaking with Lynn Suter, VMMissions staff, and Luke Schrock-Hurst (left), Mennonite Central Committee staff. Both agencies will benefit from the proceeds. Photo: Jon Trotter

For Eric King, this first year riding with Bike Shen was very positive. "The weather was perfect. And it was cool to do the 62 miles—my longest ride ever and my personal best—together with my close biking friend." New to the Bike Shenandoah board, Eric is coordinator of Safe Routes to School for Sentara RMH Community Health.
King sees his involvement with Bike Shenandoah as "a neat way to do something I already love to benefit these various service-oriented organizations." He was also excited to be involved in the planning of this year's event, which entailed a lot of creative evolution over the months, in light of COVID and the death of Steve Leaman.
Steve Leaman's brother Jay Leaman has participated in Bike Shenandoah every year since it began in 1998. He particularly enjoys long rides. "Bike Shenandoah is a big motivation for helping me focus on doing the training needed to complete the long rides I enjoy. Each year I'm healthy enough to participate, I feel blessed," he said.
"This year was pretty special in the way Bike Shenandoah chose to remember my brother Steve with this year's event. It was also a different experience doing this event while physical distancing. While riding the route, however, the rhythms of pedaling, climbing hills, and flying down a steep grade help me forget the constraints COVID has brought our way. I enjoy riding with friends and learning new ones," Leaman said. "Every year I've made new friends riding with Bike Shenandoah participants. This year's highlight was getting acquainted with a rider from the DC area. I know Steve was excited to be a part of Bike Shenandoah for the way it brings our community together and provides needed funding for the designated service agencies. He enjoyed the opportunity to help plan recent Bike Shenandoah events and provide support for its success."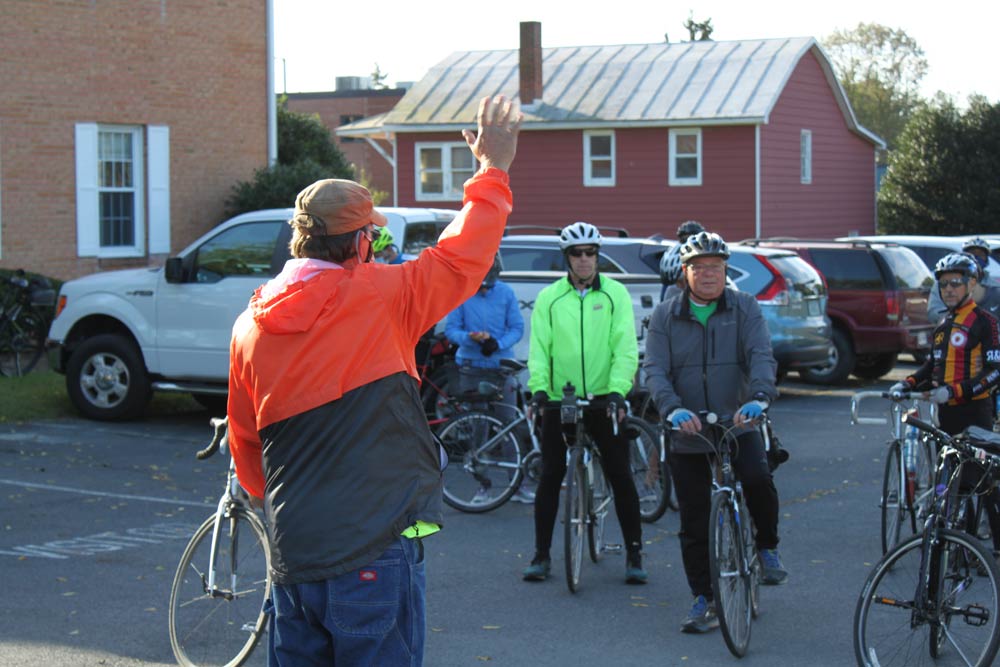 Bike Shenandoah board member Luke Schrock-Hurst gives instructions to the riders before the 30-mile ride. Photo: Jon Trotter

For the past 22 years, Bike Shenandoah has raised money for local and national nonprofit organizations. This year, proceeds will be donated to Virginia Mennonite Missions, MennoMedia, Mennonite Central Committee, NewBridges Immigrant Resource Center, Our Community Place, and Roberta Webb Child Care Center.