Called to go: Norma's story
Posted on August 14, 2018 by Jon Trotter
Norma Teles is a Brazilian VMMissions worker in Lezhë, Albania, working with Roma children at the school she has founded, the Joshua Center.
By Norma Teles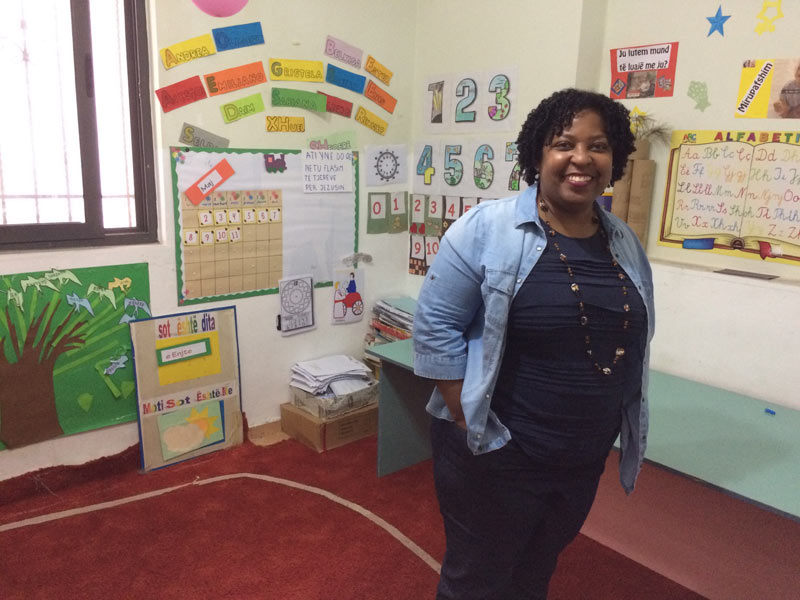 Norma Teles at the Joshua Center. Courtesy of Janet Blosser

I grew up in a Christian family with nine siblings in Salvadore, Brazil. I was expected to be on my best behavior at all times. However, I was not an easy child and I had a lot of trouble obeying. One day I prayed to God and asked him to help me be good or let me die in one of my asthma attacks. Instead, God saved and changed me. I was 16 when I first felt called to serve God. At first, I thought my call was to spend time in prayer, but God showed me that he also wanted me to go!
I began working with the children from the streets in Brazil. We had participated in some outreach evangelism. We realized that though Jesus wanted us to tell others about him, the children also needed to be off the streets to be able to change.
Along with two other youth from my church, we decided to open a home to rescue these abandoned children. Although our church supported us in this endeavor, we had no official training – just a call from God that everything would be possible if we totally depended on him. Our church became excited about what God was doing in our work; they loved to hear the stories of the children. Little did I know how much this would prepare me for my work in Albania.
A number of year later, in 1996, I decided to accept a call to serve God in Albania. I began working with the VMMissions team in Lezhë in 1999. The Brazilian Mennonite Church became my sending team, and VMMissions began providing me with additional spiritual and financial support, as well as guidance for the work here. This partnership positions me for success in doing what God has called me to do.
In my heart, I have always had the desire to work with children, those who are most vulnerable. In Lezhë, it was Roma children who were always on the streets begging for money and food. The Roma (widely known in English as Gypsies, which is sometimes considered pejorative) are historically a nomadic people group originating from South Asia. They often face widespread discrimination.1
With the opening of the Joshua Center in 2007, I was able to begin working with the Roma people. We began with 25 students and four staff persons. Our work is to prepare the Roma children for enrollment in school. What began as a pre-school now includes an after-school program three days a week, a weekly girls' Bible club (ages 7-17), and a monthly mothers' meeting. We gather as staff each morning to pray for the students and their families.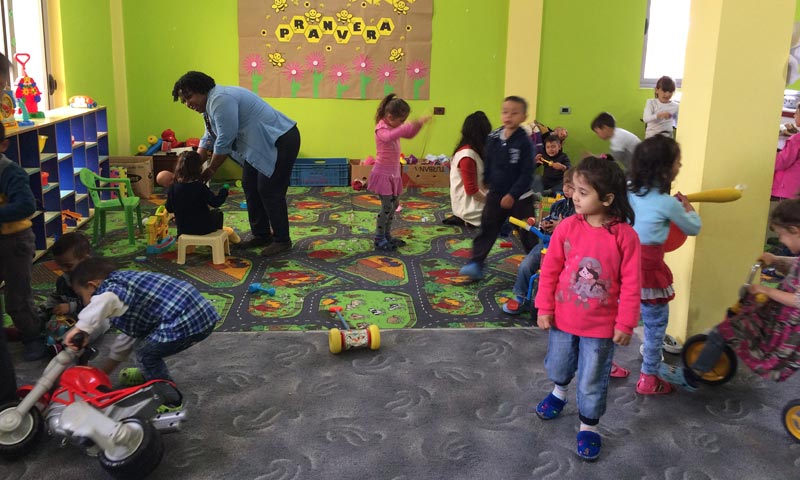 Play time at the Joshua Center is an important part of the day. Courtesy of Janet Blosser

I continue to be astonished at God's power to transform lives. The most exciting part of work with children in preschool is watching children's personalities come alive. Geraldo, a child with Down syndrome came to the day care center. He couldn't walk; he would scoot across the floor. For more than a year, he didn't speak a word. He understood everything but refused to reach out to others. We smothered him with love and attention and encouragement. We prayed earnestly for him.
Within a year, Geraldo began walking. Gradually he learned to trust his teachers and friends and began to open up. Prayers, home visits and personal loving care have helped Geraldo to blossom. Each time that we see him participating in the morning circle or playing with other children, we rejoice with him.
"You wouldn't recognize my granddaughter any more. I took her to Norma! They loved her and she is a new person!"
Superstitions and occult practices are common in the Roma community. One day one of the grandmothers took her granddaughter to the local imam to pray against some spells because the child's behavior was putting her own life in danger. The imam said that the girl had bad blood and that she needed a psychiatrist. Later he asked the mother if she took the girl to the psychiatrist. The mother told him, "You wouldn't recognize my granddaughter any more. I took her to Norma! They loved her and she is a new person!"
The girls love to come to Bible club; there are usually 30-35 girls participating. We teach them songs and stories about Jesus, and help them learn Bible verses. After a story about Jesus loving all people, Lorenca asked how she could meet Jesus. Another child stood up and said, "Don't you know who Jesus is? He is the Son of God." She answered, "I know that, but I want to meet with him!"
I explained that she could pray and invite him into her heart, and then she could meet with him every day. And so she did! When her mother came to pick her up, she told her that she had met Jesus!
The girls also are learning to pray. Nine year old Ledina is learning to know Jesus. Her mother must go out at night to collect garbage for recycling. Ledina is afraid to be left alone caring for her little sisters. She said to me, "Do you know what? When my mother leaves home, Jesus comes to stay with us. I put a chair out for him and he sits and stays with me!"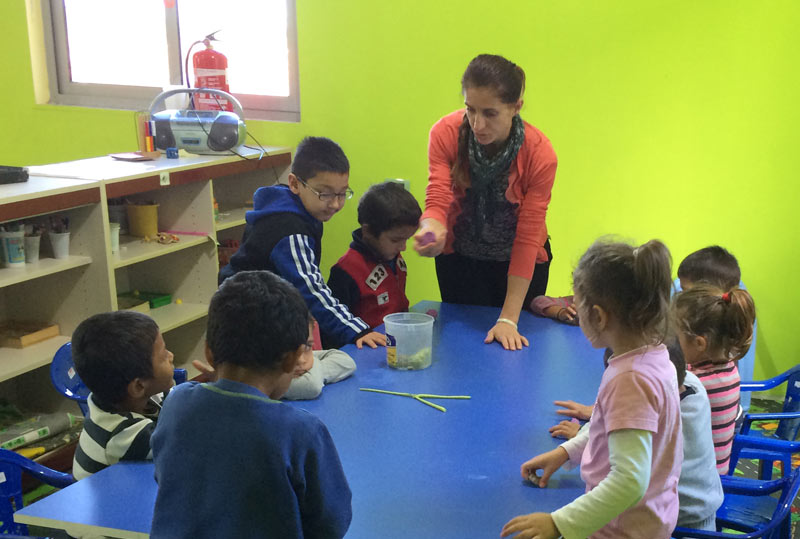 Joshua Center staff member Lily leads an activity time. Geraldo is standing to her right in blue. Courtesy of Janet Blosser

The mothers also love to gather each month. Sometimes I teach them about cleanliness; sometimes we talk about parenting, or about healthy, loving relationships.
Last February I decided to do a meal with them for Valentine's Day. I asked each one to bring something. "What can we bring?" they asked. One said, "I have some rice." Another responded, "I have some spinach." And in the end each one brought what they could.
We had a delicious meal! We laughed, we cried, we danced, we prayed, we ate! The mothers have decided now that they want to eat together every other month or on special occasions. One of the mothers said, "Why don't we do this more often? Here, we do not fight one another, we don't get drunk. We get hope for tomorrow!" Some of the mothers are learning how to be followers of Jesus!
It is amazing to see what God is doing in Lezhë! I am a Brazilian, working with Roma children and an Albanian staff. Lily, one of my staff, just got married to a man from Switzerland. They are planning to go to Kosovo to live, and Lily wants to start a Joshua Center in Kosovo!
My support comes from Brazil, from America, and from Mennonites in Europe who have caught the vision for what God is doing among the Roma children and families of the Joshua Center. So whether we're American, Brazilian, Albanian, Kosovar or Roma, God uses us all! And what makes us most effective as workers is our total dependence on God, our loving Father, the God of all nations.
Norma Teles is director of the Joshua Center, an early childhood learning center for Roma children in Lezhë, Albania. She serves in partnership with Junta Menonita de Missões Internacionais, Brazil.
Filed in: All posts, Transforming