Celebrating 40 years of God's faithfulness in Trinidad
Posted on December 20, 2014 by VMMissions Staff
God has been in control of the Mennonite Church of Trinidad and Tobago (MCTT) from its inception.
The work that began in 1974 has led to a total of five congregations: Diego Martin, Charlieville, Chaguanas, Esperanza, and Sangre Grande. MCTT celebrated its 40th anniversary in a blessed and uplifting weekend, October 16-19, with the theme, "A Broken Alabaster Jar."
For this huge milestone in the life of the Trinidadian church, attendance included 26 fraternal guests from the United States and one from Jamaica to join in this happy occasion.
The first day's gathering was held at the Charlieville Mennonite Church (CMC), which is celebrating 30 years. Deolal Ramdial, MCTT President, had a radiant launch as balloons and bubbles arose in the sanctuary symbolizing the supreme God who is and has been in control of the church. "We celebrate the goodness and faithfulness of God's mighty acts and wonderful works in the ministry of MCTT for 40 years. We celebrate this milestone because we want to preserve this history by making it known to all generations," he said with a jubilant voice.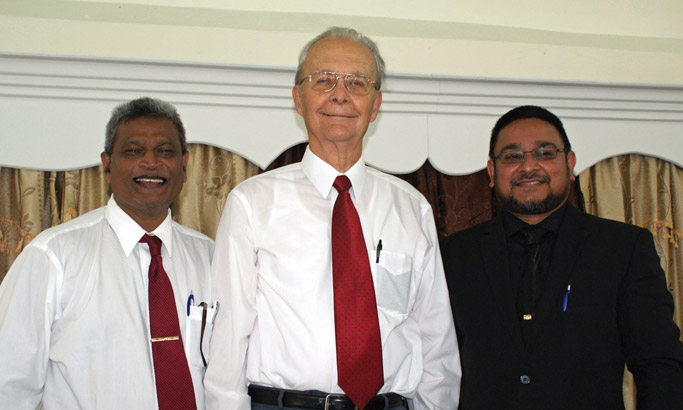 Ganese Gunpath, MCTT overseer (left) and Navin Benny, pastor of Hope Mennonite Church (right) stand beside Paul Kniss, whose spiritual nurture and financial support brought into fruition the Hope Mennonite Church, both in its physical building and in its development as a congregation. Photo by Galen R. Lehman
.
On Friday, very lively and high-spirit worship filled the atmosphere, led by youth who shared in songs, drama and chorale readings at the Sangre Grande Mennonite Church.
On Saturday, there was a Fair Day at the Diego Martin Mennonite Church, the first congregation, depicting each church's history with food and delicacy samples in keeping with culture and tradition. There was also singing, drama and fun games for all including a chow throw and Jeopardy, organized by Ganesh and Risha Kalloo.
The celebration culminated with a Sunday morning worship service led by Pastor Ramesh Jaimani with approximately 300 people gathered at Hope Mennonite Church. During a special dedication of the congregation by MCTT overseer and pastor Ganese Gunpath, his family released doves indicating the power of the Holy Spirit at work.
Recognition was given to Virginia Mennonite Missions for sending various missionaries to this island. I must emphasize how thankful we are to God for this work.
There was also recognition for Galen and Gloria Lehman, who served as Caribbean Regional Director and Assistant for over sixteen years. There was a video greeting by Richard Keeler, who initiated the missionary movement for MCTT, having served as a doctor for those afflicted with Hansen's Disease (leprosy), and Paul and Evelyn Kratz, the first pastoral couple.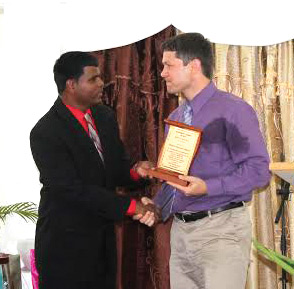 Now God is moving our church forward into local leadership. Pastor Navin Benny delivered the message, drawing from the alabaster jar of devotion, submission, obedience and love as we journey together in Christ.
The president commissioned everyone to carry out the vision and mission of MCTT with an eternal inner flame. "We shall never go out in the name of Jesus Christ, the true flame!" he proclaimed.
Deolal Ramdial, MCTT president, presents a token to Aaron Kauffman, president of VMMissions, during the 40th anniversary celebrations. Courtesy photo