Local church, global body
Posted on March 3, 2017 by Jon Trotter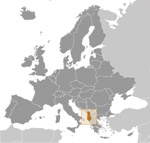 Rafael and Solange Tartari serve as pastoral leaders of the Guri I Themelit (Cornerstone) congregation in Lezhë, Albania. Through a partnership that spans three continents, they engage in evangelism, discipleship and mentoring.
In Ephesians 2:11-22, the Apostle Paul gives us a vision of the church that is not just the local community. It goes beyond that, formed by a set of communities made up of different people from different ethnicities in different places.
The announcement of the good news of peace through Christ has given the Gentiles the possibility of belonging to the family of God without first becoming Jews. The great transformation that Christ brings is a promise of new life. In this sense, it is essential to be clear that access to God is granted solely through the grace of Jesus. There is no other force, no law or tradition, that allows us to do so.
Christ maintains and grows this work dedicated to the Lord, this building in which we are all living stones. The end result is God's kingdom, toward which we go with Christ's strength and direction.




Leading worship at the Guri I Themelit church: Solange and Rafael Tartari (left) sing in praise together with lay members of the church and fellow mission workers Juliana and Francis Marques (right). Photo by Richard Bowman

Based on these reflections, I remember two stories that God made possible when we took a collaborative posture in mission.
A young man was born into a Muslim family, but he lost his parents when he was a child. His aunt sent him to an orphanage, where he first heard of Jesus. Last year, when he returned to his hometown, Lezhë, he continued to attend services in our community and chose to be baptized. At his baptism, he publicly shared a beautiful testimony, saying: "I lost my family, but God gave me a bigger family." We rejoice that the body of Christ can be his family through faith! As that faith family stood to formally welcome him into the church, he was embraced with prayer.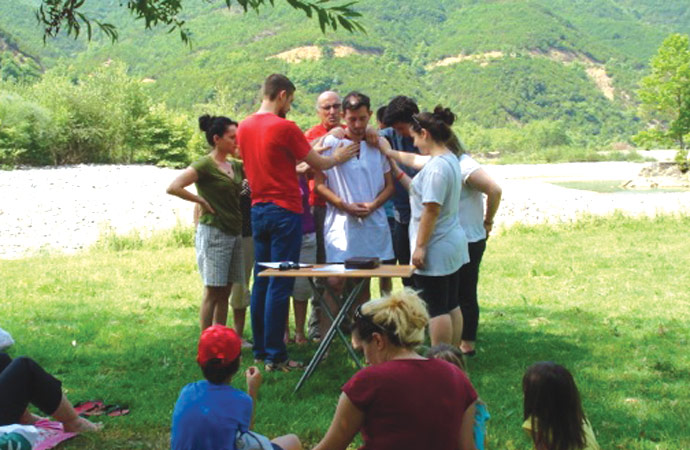 A young man baptized by Rafael Tartari receives a prayer of blessing. Photo courtesy of Solange Tartari
At first he had a difficult job that paid very little, and he could barely cover his personal needs. We kept praying that God would bless him with a more dignified job. One day this young man announced the very happy news that he had found a better job! In Albania, this is synonymous with a miracle. It was universally understood as God taking care of him.
In collaboration with another ministry in our city, Lezha Academic Center (LAC), three female students from the school accepted Christ during a program held at the end of the school year, where LAC opens its doors and activities to the local Mennonite church we pastor (called Guri i Themelit in Albanian). These young women began attending church services on their own without their families. At the last preparatory discipleship meeting we had with them before baptism, we asked if they had received their parents' permission to be baptized.
They said that they had been granted permission, but their parents otherwise did not support the decision. While this was a difficult situation for the students, we praised God for the support and prayers of the body of Christ. God especially surprised us when the parents of one of the young women, from a Muslim background, showed up at her baptism—thoroughly unexpected— and hugged her in front of everyone. As we shared in her joy and delight, the teary-eyed fellowship recognized God's faithfulness and transformative power.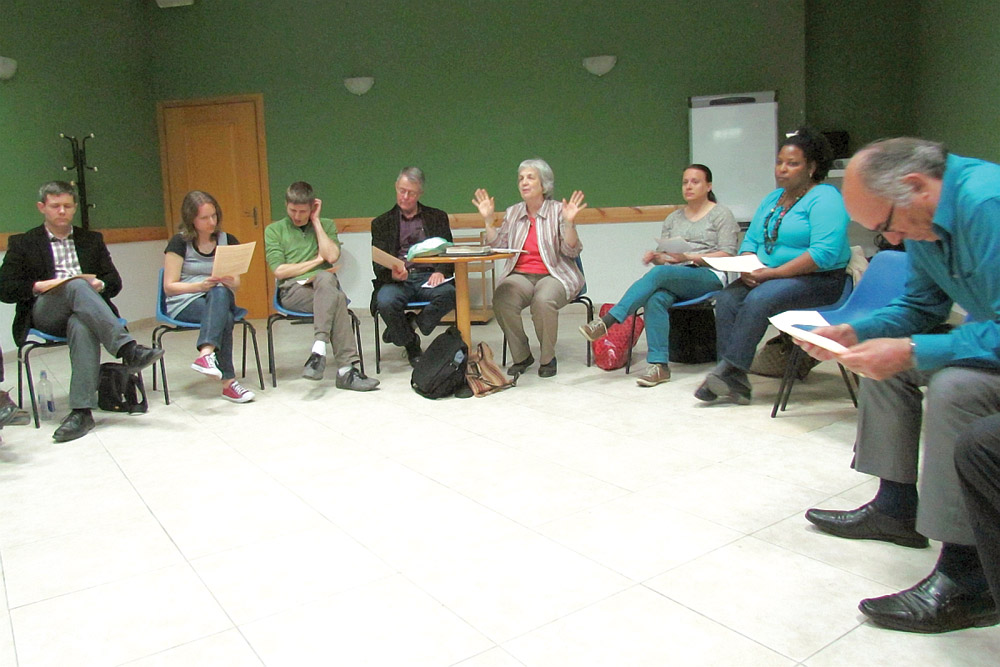 Mission workers in Albania from EMM and VMMissions, together with several staff members from the two agencies, meet periodically for resourcing and refreshment. Photo by Richard Bowman

Stories like these are possible because of collaboration. With the resources and prayers of many, we work together to take on the task of mission and the hard work that accompanies it, making the outcome much more effective.
Through relationship-building, prayer, acts of justice and compassion, peacebuilding, cross-cultural missions, social action and community development, the church has a tremendous capacity for transforming society through living out the kingdom of God.
Full-time mission work is putting God's plans above one's own. As the challenges and limitations of life are always present, prayer is essential, making us more sensitive and perceptive to the will of God. It leads us to see where God's kingdom is being built and transformation is happening. It also brings us refreshment, strength and perseverance for the many challenges of mission.
We understand that to take part in the collaboration that makes this work possible, we must first be willing collaborators in our hearts. Then in our minds, we come to identify visionary projects served by this collaboration, and how they can plant seeds of faith and expand the kingdom of God. Our vision goes beyond just one project, just as our support comes from more than one agency or just one partner.
The more effective the collaboration, the more we have hope for good results, that is, lives affected and changed. After people come to the full knowledge of revealed truth, which is salvation in Jesus, we want to disciple them to be able to share the same grace they have received with others. We want them to develop their God-given gifts and empower them to contribute to the global body of Christ.
These results will happen when each of us takes collaboration as our posture on mission, with zeal and obedience to the word of God, as together we sow seeds for the kingdom.
Filed in: All posts, Transforming