Partners in planting
Posted on February 21, 2017 by Jon Trotter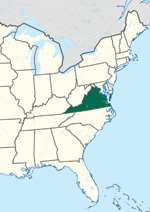 Mennonite Hispanic Initiative is a joint effort to birth, nurture and sustain new mission impulses among Spanish-speaking people in Virginia and beyond.
By Lizzette Hernandez and Marvin Lorenzana
God's model for eternal existence is God the Father, Son, and Holy Spirit living in loving relationship with each other. God has modeled this perfect relationship of love and interdependence for his people as the way of true living, showing us that his design for authentic wholeness is only experienced in community.
Mennonite Hispanic Initiative (MHI) was born out of this mindset in 2009. The leadership behind this project always knew that the chances of long-term success in birthing, nurturing, and sustaining a missional movement among Hispanics within Virginia Mennonite Conference (VMC) greatly depended upon working together with the rest of the Mennonite community in the local area. The following are just a few examples of how these partnerships are shaping our future together.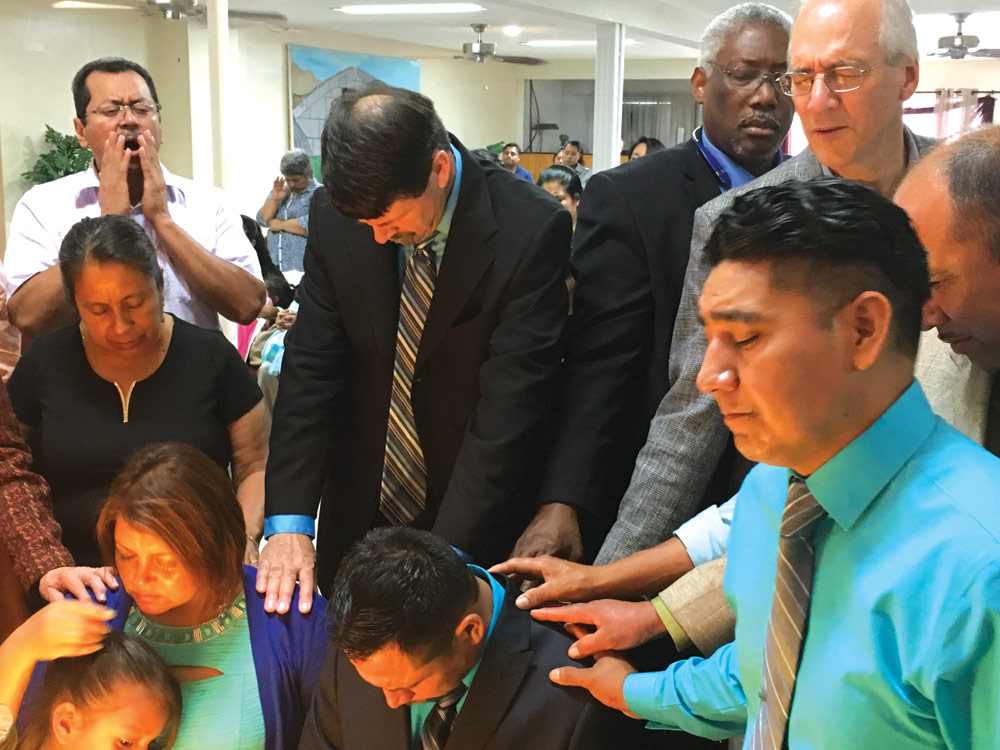 Enciende una Luz pastor Armando Sanchez (center, kneeling) and his family receive a prayer of dedication and blessing by church members, Northern District pastors, and Clyde G. Kratz, Virginia Mennonite Conference Executive Conference Minister. Photo courtesy of Lizzette Hernandez

In 2009, MHI began a church planting effort with the help of the Harrisonburg District of VMC, a group of thirteen congregations based in or near Harrisonburg, Virginia. This collaboration included the important participation of Harrisonburg Mennonite Church as the host congregation.
The result is what we know today as Iglesia Discipular Anabaptista (IDA), a congregation that continues to grow and mature in spite of having faced difficult times along the way.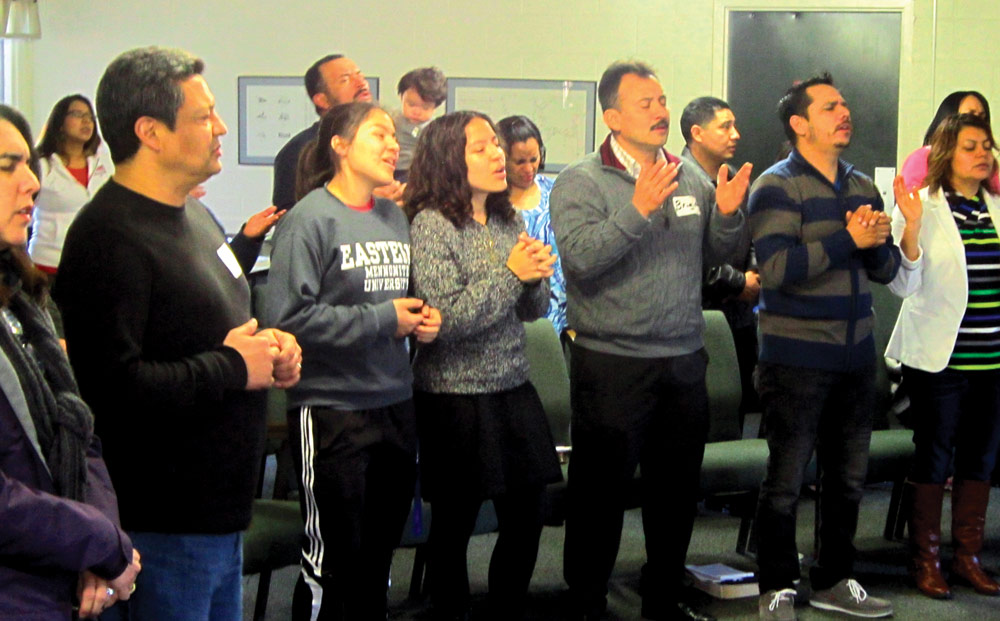 Participants at a Mennonite Hispanic Initative retreat join their voices in praise during a worship service. Photo courtesy of Marvin Lorenzana

From its very inception, IDA was intended to become a learning center focused on the development and mentoring of new Hispanic leaders. For this purpose, IDA also established an important partnership with the Instituto Bíblico Anabautista (Anabaptist Biblical Institute, or IBA), a program of Mennonite Education Agency. For the past number of years, a group of 20 leaders from a variety of church backgrounds has been receiving not only theological training, but also important practical tools that allow them to live missionally in their particular contexts. Eastern Mennonite Seminary has partnered with this vision by allowing the classes to happen in its facilities.
Today, IDA continues to advance under the leadership of Pastor Luis Martinez, along with the dedicated support of a leadership team. IDA's close and meaningful relationship with all the different missional partners named above, serves as a point of reference that informs MHI's ongoing engagement in leadership development and training, as well as the church-planting process itself.
Our previous learning experience with IDA has prompted us to explore newer approaches for church planting. One such approach is VMMissions' recently developed Covenant Partners for New Church Initiatives, which outlines the gifts and responsibilities of everyone involved: church planter, mission agency, and the group of existing congregations who will sponsor the work. We hope that using this approach will help us define clearer expectations, establish specific roles and lines of accountability, and develop a stronger support system for church planters.
We are currently trying out this Covenant Partners approach with Pastor Alfonso Alvarado, who is pursuing a call to plant a new church in Lacey Springs, Virginia, with Grace Mennonite Fellowship as its base. It is exciting to see the enthusiasm with which the fourteen congregations of Northern District, stretching from Harrisonburg to Winchester, Virginia, have embraced this new initiative.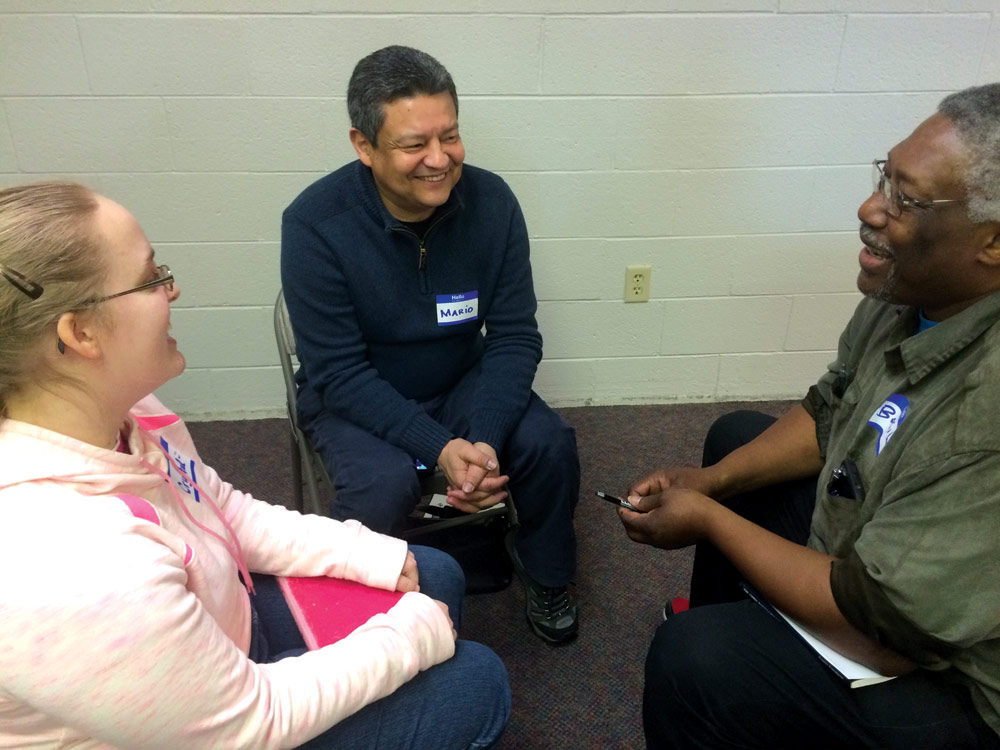 Crystal Lehman, Mario Hernandez and Basil Marin participate in a Life Transformation Groups workshop. Photo courtesy of Lizzette Hernandez

All of these collaborative efforts have positively impacted the effectiveness of our ministry. They help us work towards our particular goals within the Hispanic community, and we are able to join the vision of others. This dynamic has taught us that while different ministries have their own particular ideas and needs, they really are all complementary. Only by working together does the broader vision of God come to life.
We've learned to focus not only on accomplishing projects together, but more importantly, on building relationships among us. Partnership has allowed MHI to develop a rich network of friends who walk alongside us in a loving exchange of care, learnings, encouragement, and healthy accountability.
We've all benefited by discovering or re-appropriating visions and dreams that we could have overlooked while working alone. Working together requires hard work. It can be difficult to maintain good communication and flexibility. By listening carefully and being open to innovation, we can better offer our abilities and strengths, and join them purposely with the skills and resources of our partners. Many times, working together means doing things differently.
This work across ministries and among different partners becomes a tangible and visible sign of what the kingdom of God is about: Jesus being sent to show God's love through restoring broken relationships. As Jesus prayed to the Father, "May [they] become completely one, so that the world may know that you have sent me and have loved them even as you have loved me" (John 17:23).
When we work together as the body of Christ, we make God's love known to the world.
Filed in: All posts, Transforming