Making disciples, creating communities—not just churches
Posted on December 7, 2013 by VMMissions Staff
Jesus did not call us to build churches but to make disciples. These were the simple and true yet profound words from Bro. Skip Tobin as he commenced the Saturday session of a three-day church planting seminar with members of the Mennonite Church of Trinidad and Tobago (MCTT).
The focal point of the Saturday session was: Get behind people to create communities, not just church. This statement echoed through the three days of workshops beginning on the evening of October 4. Those members of MCTT who were in attendance were challenged to search themselves through probing questions, such as, Jesus got under Peter, who are you getting under? John leaned on Jesus' shoulder, who is leaning on your shoulder?
.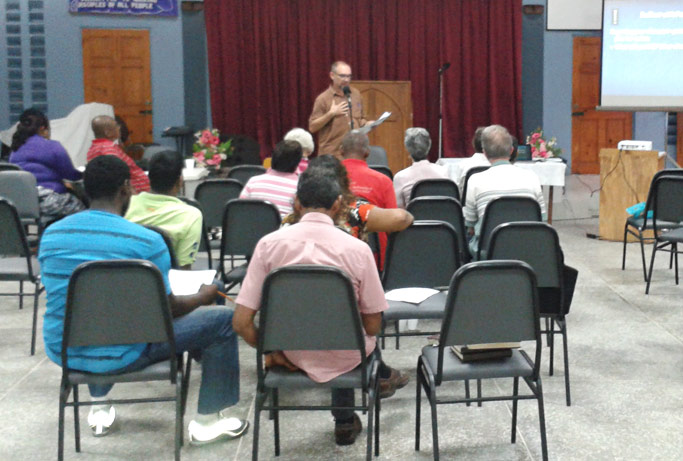 Skip Tobin (center) leads the Saturday session of a church planting seminar in Trinidad. Courtesy of Skip Tobin
Those attending the sessions were taken by surprise! Many came expecting to be told about how to select a church plant team, and how to go about church planting in communities that are remote to their churches. Instead, they were taught the multiplication method used by Jesus to create disciples. Participants engaged in intra-personal and group reflection as they were encouraged to assess their very own relationship with Christ, our Saviour. The Tobins presented material that was very probing, causing the attendees to critique their own walk with Christ, how much they are a reflection of Him, and the extent to which they were making disciples and empowering them.
The culminating session on Sunday afternoon was restricted to members of church leadership teams, the pastoral team and the General Church Council (GCC). The emphasis was on 'Accountability: Benefits and Boundaries.' We examined and gleaned many lessons from the Apostle Paul's approach in Galatians 2:1-5, including taking responsibility as a steward of God and opening ourselves to others. So gripping was this session that the leaders attending found it difficult to depart, as many stayed on more than an hour past the intended close time.
The venue for the seminar was the centrally located Charlieville Mennonite Church. It was a great pleasure to host Skip and Carol. Despite this being their first visit to Trinidad, they were very much at home with the culture, including the spicy food. Their adaptability was greatly appreciated. Their rich resource of experience and knowledge has enabled them to present life-changing information to the Mennonite Church in Trinidad and Tobago. Thanks to VMM for supporting this venture, and thanks to Skip and Carol!
Filed in: All posts