Milk plant builds trust in Kosova
Posted on February 17, 2015 by VMMissions Staff
My love of working with dairy cows and my desire to follow God has led me here to live and work in the beautiful country of Kosova. God has guided my paths faithfully, and I have sensed His presence throughout my time here.
I have been here for five months, and for four of those months I have had the pleasure of working at a local milk collection and processing center called Jeta e Re, which means "new life."
This has been the most incredible experience for me. I volunteer there three days a week. When I go, I work with another woman—as she fills the bottles of milk, she slides them to me and I stick a label on the bottle.
That may not sound like much, but I would not trade the experiences I have had there in the past four months for anything. I work with six other people and none of them know English. This has pushed me to learn more of the language and has been a source of great excitement and encouragement when I leave some days realizing I had actually carried on a conversation in the native Albanian language.
.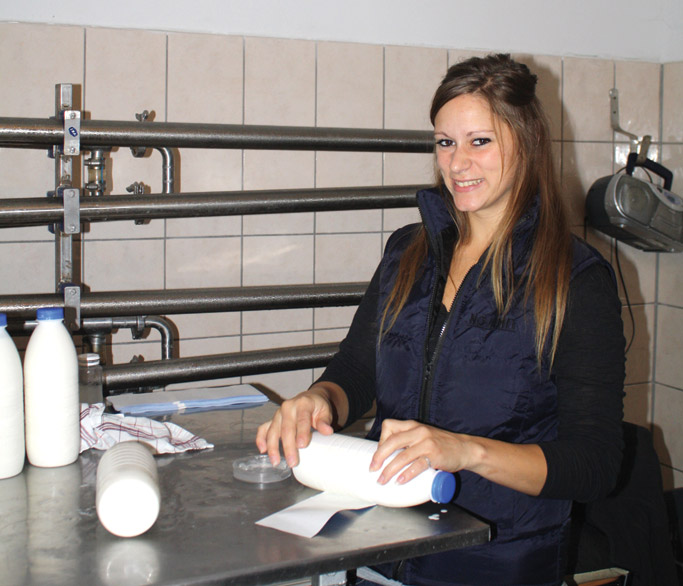 Whitney Specht puts labels on bottles of milk at the Jeti e Re plant in Kosova. Photo by Martin Rhodes
.
It has been an inspiration to hear and see the great things that have happened at the center. A little background: there are many farms in the area that only have a few cows, and the large processing company in the area will not stop at these farms for such a small amount of milk.
So farmers were forced to sell their milk or milk products to people they knew or at the local market and this is not always a way to provide a stable income.
In response to this problem, Jeta e Re was started. I have without a doubt seen God at work through the milk center. It has been a light in the community and to the farmers it works with.
At the start of the new business, none of the farmers trusted one another. But now farmers will bring in their neighbors' milk, trusting they will deliver what they sent. One farmer goes around to ten other farmers each morning collecting their milk and delivering it for them.
Even though communication went from being almost impossible when I first started to being much better but still minimal, I have grown to love the people at the center. Through the actions of the people working there and the farmers who come each day, I know without a doubt God is at work, and I'm excited and encouraged to make God's work there evident to others.
Filed in: All posts