My experience in Albania has taken me on a path very similar to the road that two disciples traveled after Jesus' death, seven miles from Jerusalem to Emmaus. I learned two valuable lessons on my seven-mile journey that drastically changed the way I trust God.
God is at work even when we can't see Him. Teachers have the difficult job of imparting knowledge while simultaneously striving to shape students' attitudes. I've often wondered how I can incorporate God's love into my lessons even on the most difficult days. Many times I've questioned God's presence in my classroom, and have felt discouraged when I see conflict among students. What I am failing to look for though, is God at work. Lately, a few students have been attending Guri i Themelit, the Mennonite church in Lezhë. This addition has helped our church to increase in life and hope. Fifteen of fifty students attend our Friday Bible Club. Students, who once expressed no belief in God, now openly declare His existence.
God's plans go beyond our wildest imagination. We lost a student to the U.S. this year, but gained one example of God's perfect timing and design. Our beloved senior, Engerta is now at Christopher Dock High School, and has unwittingly helped to transform attitudes and renew hope in us by her willingness to follow God's leading in her life. She has paved a road for her Albanian classmates by being the first to pursue education outside the country, and offering perspective into her life in a loving, Christ-centered community. Her story serves as a testimony to how God's plans far surpass our own expectations.
Two disciples on the road to Emmaus were discussing their discouragement of the empty tomb when Jesus appeared to them. Although Christ revealed great things about himself, they couldn't recognize their risen Lord until they had reached the end of their seven-mile journey. Sometimes, it's not until I reach the end of an experience that I recognize God's presence and activity the entire way.
As we reflect on God's sacrifice for us this Easter, let us move away from the empty tomb to see the miracles that surround us. (Luke 24:13-35)
.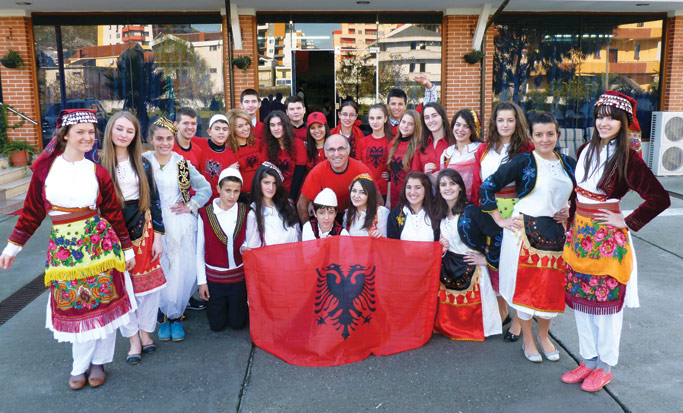 Students and Dini Shahini (center) at Lezha Academic Center celebrate Albania's Independence Day in traditional dress. Courtesy of author
Filed in: All posts