Are we there yet? My journey to embrace the unexpected turns
Posted on March 27, 2013 by VMMissions Staff
Are we there yet? I remember the annual summer trip to our grandparents' home in Maine. Even though my mother entertained us with car games, fifteen hours in a car as a child was long. My sister and I enjoyed pestering my parents with, "Are we there yet, how much farther?" every hour or so. It made us all laugh.
I came to Belize seven and a half years ago to plant a Deaf church and train leadership. I asked God to identify who in the group should I be mentoring to lead? I always thought that by the fifth year the church would be well on its way to self-sufficiency and we could start to think about taking some people from the church to the town an hour north and planting a Deaf church there.
But here we are in the seventh year and the leader I mentored for five years is struggling with temptations. He's lost his first love (Rev 2:4). At the same time, the women are blossoming. Our Bible study is growing so much we had to move to another location to meet. The women read their daily verses and report about them on Sundays.
On Wednesday some will fast and pray with me for the church asking God to fill us with His wisdom and shine His light on our paths.
In my prayers I reach up to God asking, "Are we there yet?" And God replies with Psalm 32:8, "I will instruct you and teach you the ways you should go."
It's a journey, maybe the best kind of journey where the unexpected turns remind us God is in control and always walking with us.
.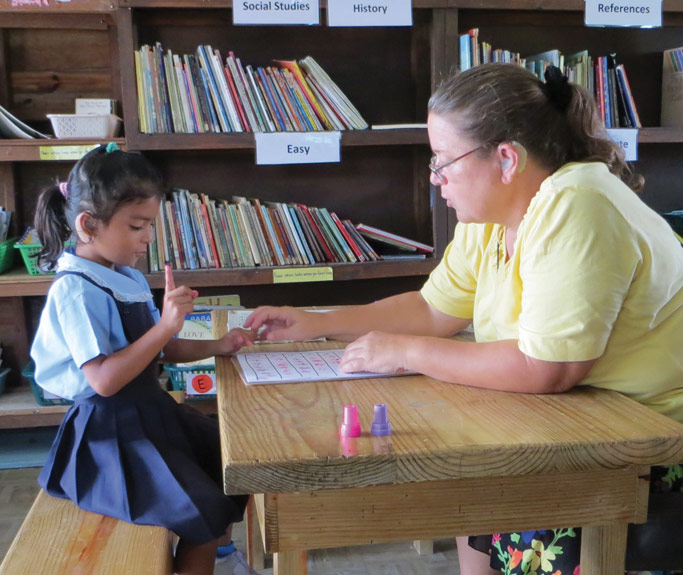 Morine Ayuso (5), a Deaf student, is signing numbers as she counts for Nancy. Nancy tutors two deaf preschool children in addition to her pastoral work. Courtesy of author
Filed in: All posts