Nancy Marshall ordained for pastoral ministry in Belize
Posted on May 6, 2014 by VMMissions Staff
The van bounces through the dusty streets of Orange Walk Town, empty except for Nancy Marshall and me. Nancy is the pastor of Jesus' Deaf Church in this small town in the Central American country of Belize.
On this Saturday evening, we are returning home after dropping off several men and boys from the "Boyz Bible study" that she hosts in her home each week.
Suddenly, Nancy brings the van to a halt, quickly shifts into reverse and backs up 200 feet to greet two young men walking in the street. A lengthy conversation ensues and ends with an invitation to Bible study and church. After we pull away, Nancy explains that she taught one of the boys in school some time ago and remembered him on sight. I am reminded of Jesus' description of His mission to "seek and to save that which was lost" (Luke 19:10) and am struck by the warmth and conviction in Nancy's sharing of the Gospel with these young men.
.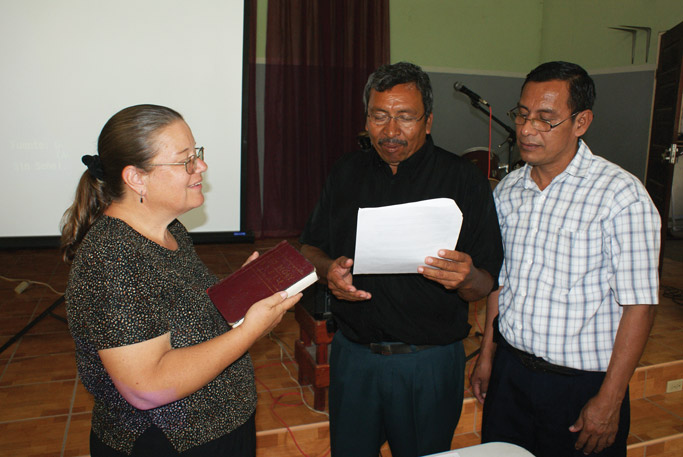 Nancy Marshall with Fernando Blanco, president of the Belize Evangelical Mennonite Church, and Tomás Torres, lay leader, during her ordination service. Photo: Galen Lehman
On Sunday morning, the Deaf believers and their families, the leaders of the Belize Evangelical Mennonite Church, and representatives of VMMissions gather at Jesus' Deaf Church to confirm God's call on Nancy's life by ordaining her as a minister of the Gospel.
The Gospel is preached in 3 languages (American Sign Language, Spanish, and English), songs of praise are sung, testimonies are given, vows are made, and a church embraces the one whom they have called to be their servant leader. As we part ways at the end of the day, Nancy says that her desire and joy is to make disciples and to raise up leaders for the church in Belize. May God continue to equip and bless her for this good work!
See a video of the ordination service (at Vimeo).
Read Nancy's blog here.
Filed in: All posts