New tranSenders commissioned for service
Posted on August 4, 2014 by VMMissions Staff
Members of the new tranSend class were commissioned in a meaningful time of worship at On Sunny Slope Farm, near Dayton, Va., on July 17.
Peter Eberly, lead pastor of Eastside Church, spoke both challenge and encouragement based on Isaiah 42. The Ears to the Ground Family led worship. Everyone enjoyed a beautiful summer evening with fellowship and international foods at a Taste of Missions following the commissioning service.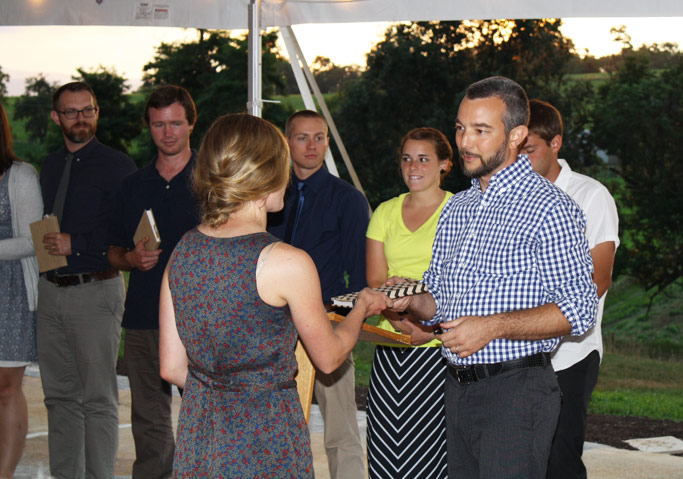 Martin Rhodes, VMM Short-term Missions Coach, presents journals to the tranSend class to write their future stories and testimonies in. The covers are woven in burlap and each contains a woven cross bookmark to symbolize how God has woven His story and call upon them, and to "bookmark" their life journeys centered on Jesus. Photo by Jon Trotter
.
The following were commissioned for service:
Jonathan Cranston to Mindanao, Philippines
Justin and Melanie Erb to Lezha Academic Center, Albania
Caleb and Veronica Kiefer to Maranatha School for the Deaf, Jamaica
Joshua Kirkman to Lezha Academic Center, Albania
Katrina Schmid to Lezha Academic Center, Albania
Whitney Specht to Istog, Kosova
.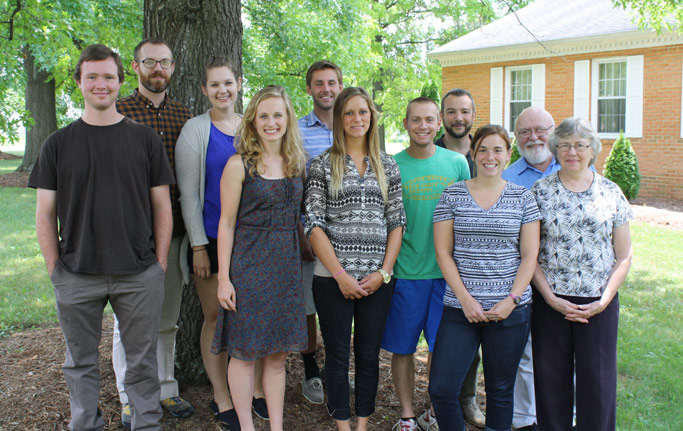 From left: Jonathan Cranston, Justin and Melanie Erb, Katrina Schmid, Joshua Kirkman, Whitney Specht, Caleb Kiefer, Martin Rhodes, Veronica Kiefer, Richard and Elsie Bowman (serving at Lezha Academic Center with Partners in Mission) Photo by Jon Trotter