Seeds of transformation
Posted on May 22, 2019 by Jon Trotter
Investment in the lives of students at Lezha Academic Center is yielding the fruit of changed lives.

By Jim Beachy
All photos courtesy of Jim and Pam Beachy
I remember clearly my thoughts as we locked our front door, loaded our suitcases in the van, and stood praying in our driveway. We were leaving for a one year assignment in Albania, teaching at Lezha Academic Center (LAC). We had little idea then of the impact that those months would have on us—the lasting friendships and deep heart connections with these young disciples, our students. In fact, little did we know then what we would be doing now: selling our farm and preparing to move back to Albania as long-term workers!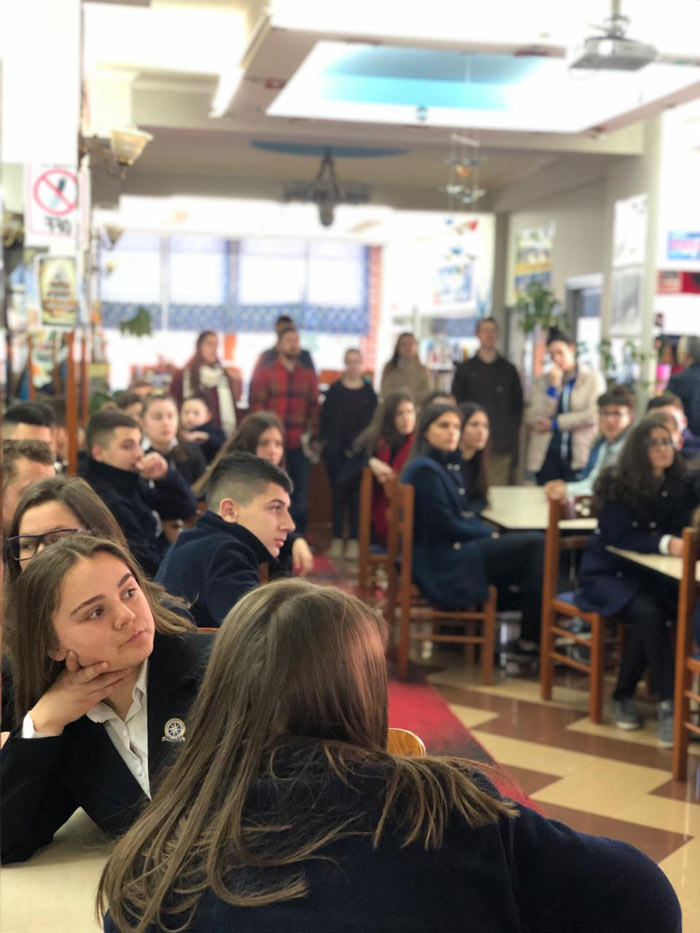 Students attend chapel at Lezha Academic Center, where many seeds of faith have been planted.

The school was prayerfully conceived and purposefully brought to life by Klementina and Dini Shahini, native Albanians, then living in the United States. Klementina and two other teachers opened LAC in 2011 with seven summer school students. They ended the year with 31 students.
Now in its eighth year, the 28 members of the faculty and staff provide education from Grades 1 through 12. Although the majority of the 164 students are Albanian, the school has an international feel due to the presence of American teachers and a variety of non-Albanian students. Lower grades are taught in Albanian; most high school classes are taught in English.
By design, rigorous academics that open opportunity for further education are a key component of the mission at LAC. The rigor is balanced with care, as teachers regularly volunteer their time to help students who are struggling. The fact that LAC students are doing well in gaining college entrance has drawn national attention. On the basis of the success that they have observed, Albanian education officials have begun to mandate LAC's block schedule in all public schools and Klementina is having opportunities to present education workshops throughout the country!
The key, however, is not block scheduling! The key is that these non-Christian secular students are being immersed in a world full of Christians.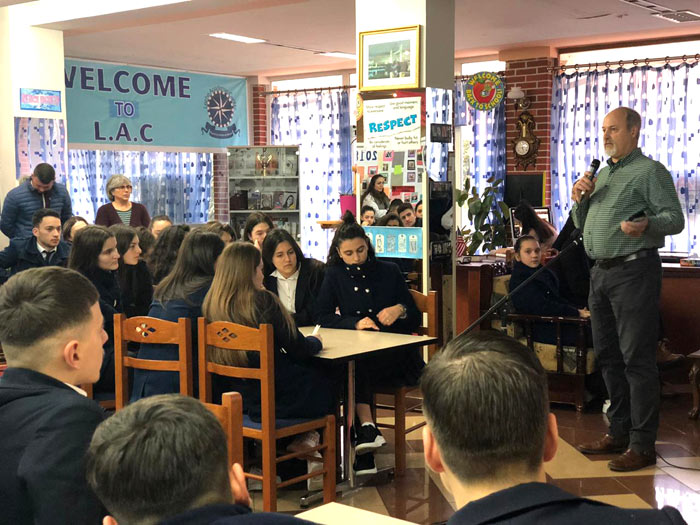 VMMissions worker Dan Hess (top right, with microphone) shares with students about his faith and service in Albania. His wife Mary Hess is standing second from left in the photo at right.)

I soon came to realize that my primary purpose for being at LAC was to build relationships. Teaching my subject area well was important; but the real substance of our time there was in the one-on-one conversations with students, other teachers, and persons in the community. Students would come to school early and spend time before classes talking and asking us questions about our home, our children, our church and our faith. Students watched us closely and asked deep questions, trying to understand our faith and our relationship with God.
Early in the year, a sophomore boy with a reputation as a troublemaker was sent to my room for a time-out. Frederik (name changed) and I began talking. That day was the beginning of a relationship that I deeply treasure. A few days after returning to the US, I received an email from him:
"Hi sir. I wanted to tell you on your last day a couple of things but my friends were waiting for me and I would have gotten emotional too. But I just want to tell you it has been a wonderful year with you. I hope we will meet again someday because you have been a great help to me and I would like to keep getting your wonderful advices. Sir, I can't express the amount of respect I have for you because you are a positive person." I have been able to challenge him to allow Christ to change his heart and to then lead out of that relationship with Christ.
Another one of my students has her heart set on becoming a lawyer. She referenced Matthew 5:6 in her college application essay: God blesses those who hunger and thirst for justice, for they will be satisfied. She wrote, "I do not want to pay money to get a diploma without studying and working hard. I want that one day I will be a professional lawyer to change the justice system of my country and try to eliminate these issues that is keeping Albania away from European Union. My generation and I can make my country and these world a better place to live."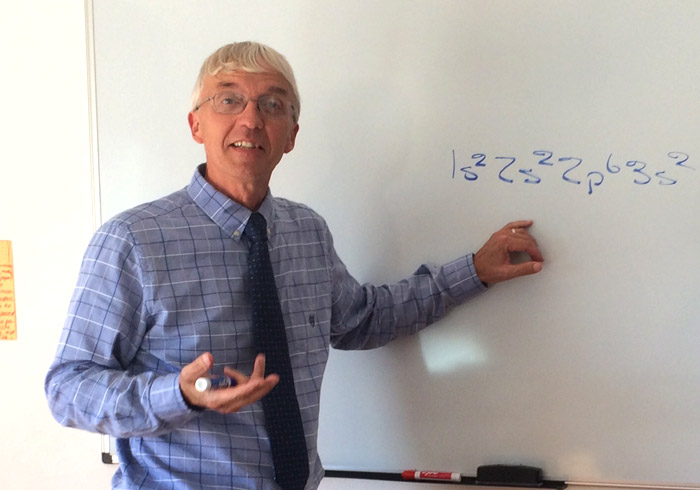 Jim Beachy teaches chemistry for high school grades at LAC.

Klementina shares another story of a Roma girl who began attending LAC when she was in 8th grade. She was a challenge and there was a lot of conflict between her and Klementina. But this beautiful young woman's grades began to improve. She started attending church and then requested baptism. She publicly asked forgiveness of Klementina for her former bad attitude and credited the school, the church and a loving community for changing her life. She will be graduating from Canadian Mennonite University, Winnipeg, M.B., this year and has requested that the scholarship she was eligible to receive be given to another needy student.
Meanwhile, back in Albania, her siblings are attending the school and the whole family is slowly finding their place within the church family.
Chapel services, now happening weekly, are functioning as a springboard into faith discussions as students intent on going deeper bring up chapel topics in the classroom. Even simple things like prayer before beginning classes or before tests touch the students.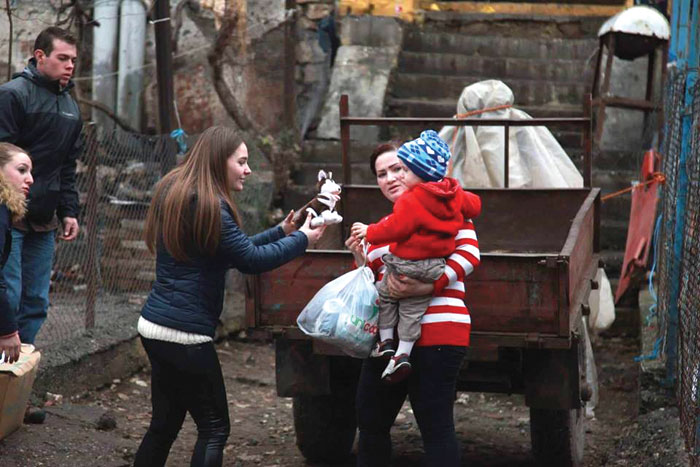 LAC students distribute supplies to families in Lezhë as part of a service project.

Klementina is noticing a particular seed of the kingdom of God sprouting within the student body. From early on, she and her staff made a point of voluntarily engaging tasks that would be considered "beneath" them. Initially, the students were shocked to see her picking up trash; instead of helping, they took pictures!
Even more radical was the thought of sharing time and resources with poorer members of the community. Klementina has insisted that service be part of the Christian formation of LAC students. Her first attempt to plan a service initiative four years ago was not the success she hoped for. The students did not want to be involved or bring contributions.
A lot has changed in four years. Now, older students meet for Bible club during the week, and help to plan service projects on Saturdays. A special project this past winter to bring gifts to families living on the grounds of a former concentration camp was a huge success. Parents of students had suggested the location. City Hall contributed vehicles to transport the many boxes. "When we ran out of parcels of rice," Klementina shares, "It was Frederik who joyfully responded, "Wait, wait! I have money! How much do we need?"
What a privilege to play a role in encouraging these beautiful young people to respond to the call of Jesus on their lives! Our hearts are there; we are going back!

Watch a video about the LAC service project
Jim and Pam Beachy served with VMMissions at Lezha Academic Center as a teacher and librarian, respectively, during the 2017-2018 school year.
Filed in: All posts, Transforming