Sentness is a Life Sentence
Posted on March 1, 2022 by Jon Trotter
The assignments have changed over the years, but Lee and Peg Martin have made God's mission the center of their life together.
Our first 11 years of married life were as camp managers at Highland Retreat. We discovered that we enjoyed working closely together and hosting "temporary community" experiences that helped to build a kingdom bigger than us. During these years, we were part of Gospel Hill Mennonite Church, with Lee serving as a marginal time youth pastor/associate pastor. This mountain congregation and community taught us much about being salt and light for Jesus amidst our world's brokenness.
Lee was then called by Mt. Clinton Mennonite Church into a full time pastoral role. Throughout that time, Peg served in various nursing roles. Mt. Clinton congregation became our family—loving and blessing us richly. In a time when church involvement nationwide began to decline, we grew in our commitment to keep the church at the core of our lives and service, knowing Jesus' promise to build the church and assure its endurance (Mt. 16:18). After 17 years, we sensed the Holy Spirit was moving us again. Scripture is full of stories of people called by God from places of familiarity and settledness into the unfamiliar and new.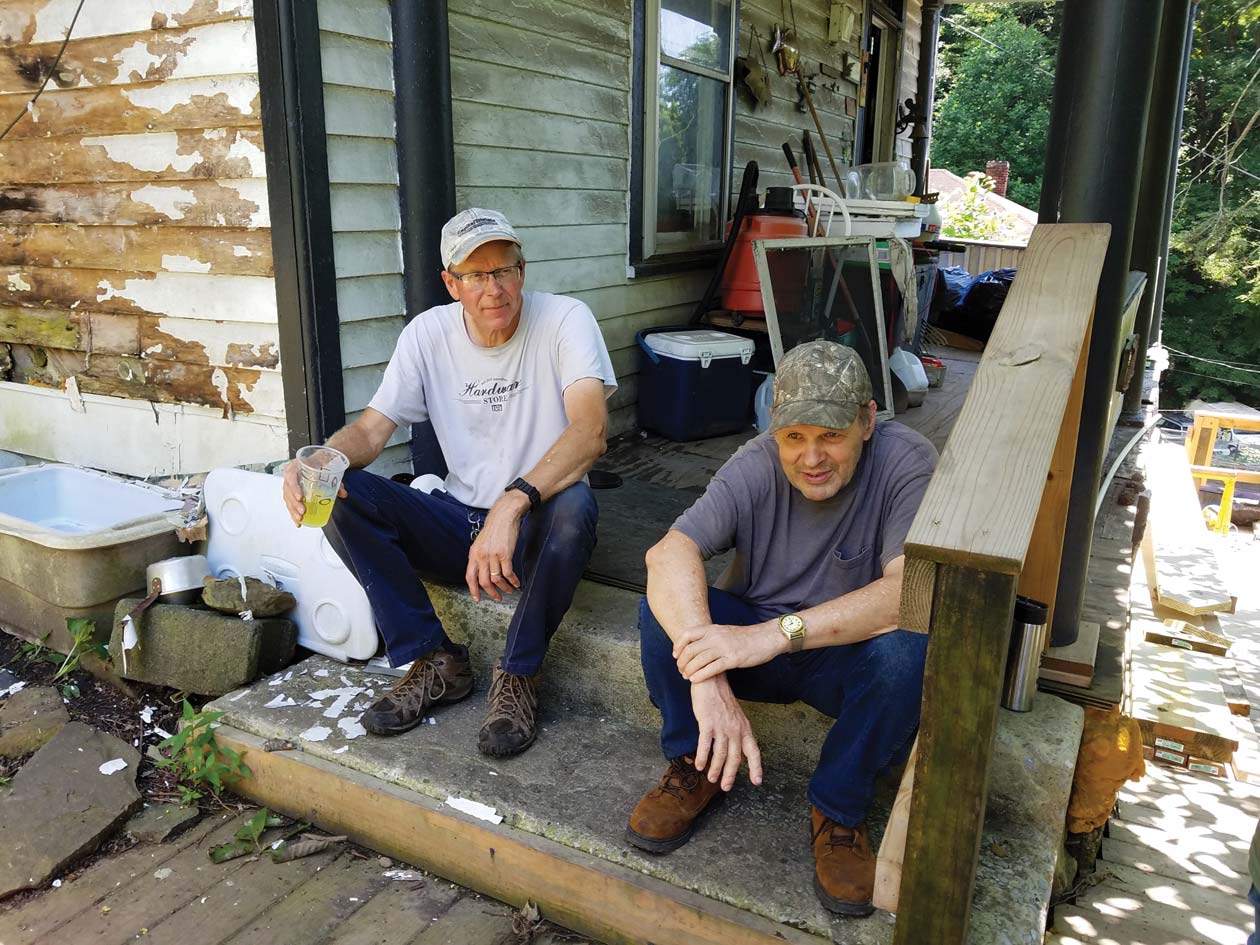 Lee Martin sits with homeowner Billie Joe McPeak during a work break in July 2020. SWAP staff were improving Billie Joe's stairs going down to the street level. Photo by Peg Martin
---
During a season of prayer and discernment we reaffirmed our desire to bring our limited faith and abilities to Jesus' grand call to lose one's life in order to find it. We took to heart God's promise that no one who leaves home and family for the sake of the kingdom will fail to receive many times as much in this life and in the age to come (Lk. 18:29-30). Thus, in June, 2017 we began our current assignment with MCC's SWAP program (Sharing with Appalachian People).
Our love for people as the high point of God's creation, and for rural Appalachia, coupled with a dose of administrative and construction experience, has given us the feeling of again finding our niche as we serve in this economically depressed rural community in southern West Virginia. Though thoughts of coasting into retirement in our previous callings certainly crossed our minds, instead, we are rejoicing in this season of once again working together in a community that has truly come to feel like home.
When considering a term with MCC SWAP, we felt called to serve "the least of these," but we have realized that we do not think of our neighbors in these terms. Though many are financially disadvantaged, we find them rich in faith and life experiences; we are inspired as we walk beside them.
We've learned to pay attention when a God-given "holy restlessness" emerges within us. During these times, we pray for alertness to new doors God might be opening, while seeking to be steady and faithful in our present calling. Experiences of God's faithfulness in the past have given us courage and trust when God leads us out of our comfort zone into new places of service. We don't know what the future holds, but are confident that our God who has guided us together for the past 33 years on this varied path in mission will be there every step of the way.
---
Lee and Peg Martin serve with the SWAP program of Mennonite Central Committee in McDowell County, West Virginia, in partnership with VMMissions.
Filed in: All posts, Transforming