Thailand: Pioneer Church Planting
Location: Asia, Thailand, Det Udom
Program name: transForm (long-term)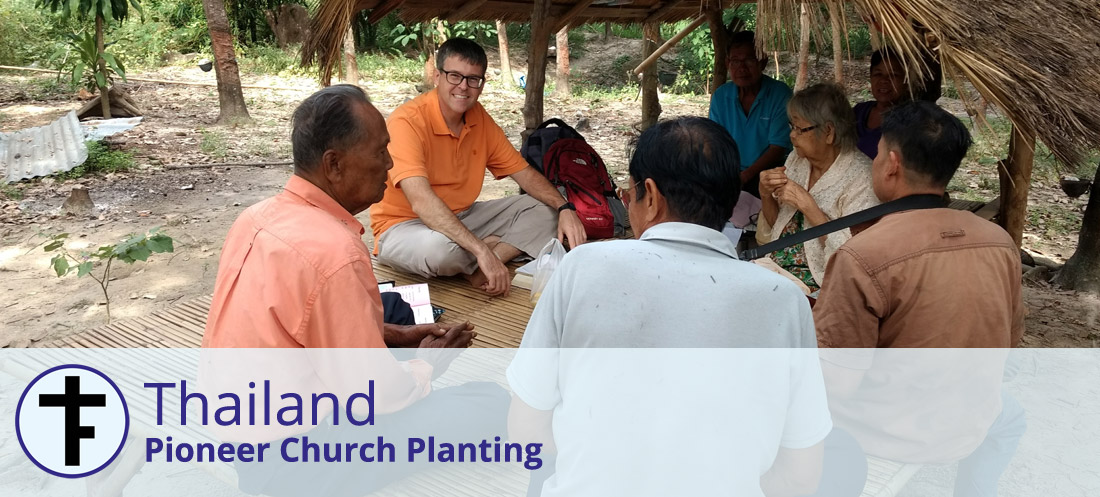 Do you love the adventure of sharing Christ cross-culturally? Long to make disciples among the least reached peoples of the 10/40 window? Want a front row seat to the Holy Spirit igniting a people movement that is contextualized, sustainable, and empowers local leadership? Come join the team in Thailand!
Regional vision
The Isaan people of northeast Thailand are one of the least reached people groups in an area of the world that has virtually no Christian witness. The EMM/VMMissions team in Thailand carries 25 years of experience and a heart to share the gospel of Jesus Christ in the rural parts of Isaan where people have yet to have a chance to hear. What's more, our experienced team seeks to mobilize multiple teams to minister in areas that currently have no church in order to plant a network of contextualized, sustainable and multiplying house-churches led by mature indigenous leaders that can outlast foreign presence and transform the region and beyond.
Responsibilities
Grow as a disciple of Jesus.
Recruit a sending team and raise support.
Catalyze prayer and connection with a sending base.
Immerse yourself in Thai language and culture by enjoying local foods, forming Thai friendships, and studying the local language.
Walk under authority as a member of a team.
Cultivate life rhythms of worship, work, and rest to sustain thriving long-term ministry in an isolated setting.
Be trained and mentored in using evangelism and discipleship tools, with the vision of multiplying disciples.
Grasp mission strategy and the relevant issues of the region.
Pray for the in-breaking of God's kingdom in Thailand.
Invest in the long-haul.
Environment
Northeast Thailand is also known as Isaan, a region of Thailand known for its rice fields, fermented fish, and resilient people. While not many foreigners live in Isaan, there is easy access to foreign foods and modern amenities in the larger towns. Take a short ride out of town, and the agricultural surroundings are brimming with villages where the working generation is branching out into livelihoods beyond subsistence farming and hunting and gathering. Isaan dialect, a mixture of Thai and Lao, local flavor, and exotic foods abound!
The climate is hot with temperatures rarely dipping below 80 degrees. Six months of the year, one can expect frequent rain and lush vegetation, but the other half of the year is dry. A short cooler season around the turn of the year punctuates the otherwise constant humidity and heat.
Thai people are Buddhist, animistic, and nationalistic. The three pillars of civic society are the monarchy, the military, and religion. Thailand is one of the most collectivist cultures in the world: valuing harmony, hierarchy, and respect. To be Thai is to be Buddhist, and Christianity is seen as the religion of the Western world. Despite nearly two hundred years of Protestant mission, Thailand has shown remarkably little response to the gospel. Living here invites us to reassess our own worldview, and is a fascinating place to examine how Christ encounters and transforms this unique context.
Supervisors and colleagues
Live and minister alongside veteran missionary teammates. Engage in broader regional team life under the guidance of team leaders. Receive support, accountability and direction from the regional representatives for Southeast Asia.
Skills and experience
Mature followers of Jesus, committed to prayer and obedience to the Holy Spirit's leading and able to nurture their relationship with God as a first priority.
Lifelong learners who are able to receive instruction, laugh off cultural blunders, and endure a long "on ramp" of language and cultural learning.
Accountable to supervision with a high level of openness.
Culturally sensitive and able to draw encouragement from a wide variety of people both local and expatriate.
Motivated to connect with people and engage in evangelism.
Ready to adapt one's own lifestyle to foster Christian witness in a traditional Buddhist context.
Engaged in ministry in their home context with a deep hunger to grow in ministry on another level.
Able to work consistently and travel flexibly in a hot climate without air conditioning, eat a variety of local foods, and adjust to non-Western norms.
Self-motivated and ready to take initiative in a highly unstructured context.
All skill sets and professions are welcome – educators, creatives, nurses, farmers, and accountants!
Come and explore how your gifts can advance the kingdom!
Contact Kierston Kreider for more information.