Sister Care seminar in Trinidad "part of God's master plan"
Posted on December 27, 2014 by VMMissions Staff
Forty-two women participated in a Sister Care seminar held in St. Helena, Trinidad October 31-November 2. Marsha Ragoonath coordinated the event attended by women from the five Mennonite churches in Trinidad with two women participating from the Jamaica Mennonite Church. Carolyn Heggen, psychotherapist specializing in trauma healing, and Rhoda Keener, Mennonite Women USA co-director, led the seminar.
Marsha Ragoonath said, "What joy to be part of God's master plan! It was a blessing to see many Mennonite women in a common setting. As I met with Sisters Rhoda and Carolyn, I felt a great sense of accomplishment and joy to know that the Sister Care seminar is being materialized in Trinidad and Tobago. I first learned about Sister Care when I met Sister Ruth Lapp Guengerich, Mennonite Women USA co-director, at Mennonite World Conference in Switzerland in 2012."
Marsha added, "The women were blessed by the Sister Care material. Some have shared they are encouraged in their ministry; others are motivated to be better listeners. I particularly enjoyed the break out session on Sunday morning when the women in my church shared what they had gleaned and how they would like to move forward. As a leader, I was inspired by the level of energy emanating from our discussion."
.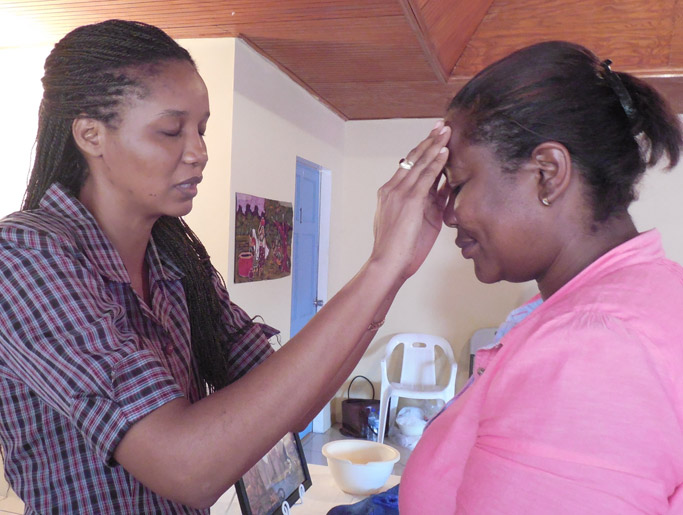 Donna Berry-Holland anoints Sheron Walcott with "living water" during the closing ritual. They were Jamaican representatives at Sister Care in Trinidad. Photos courtesy of author
.
The seminar has four themes:
Claiming our identity as God's beloved daughters
Caring for self and others
Compassionate listening
Transforming loss and grief
The closing ritual invites women to anoint their own faces with water symbolizing compassion for one's own tears, and then to anoint each other with "living water" as a blessing to go forth to find healing and offer healing.
At the close of the seminar, women wrote their responses: "By allowing me to look deeper into my life, to share my story and be anointed with healing waters, I realized I needed this special time away with God. I have been touched. I have more strength to move ahead with Jesus."
Participants were encouraged to share the Sister Care material with others in their congregations and communities. Each woman received a sixty-four page Sister Care manual with additional copies given to leaders in Trinidad and Jamaica.
Marsha concluded, "I lead a small group at my church (of women only) and many of the group members attended the seminar. We met two weeks after the Sister Care seminar and the energy was still there. Members want to put into practice what they have learned, such as compassionate listening. We have formed prayer partners and the women are keen on embracing this. I look forward to ways in which we can now use the material shared to empower the women who did not attend."
Virginia Mennonite Missions, Virginia Mennonite Women, and Latin American Women Theologians partnered with Mennonite Women USA to offer this seminar. Former VMMissions staff person, Gloria Lehman, attended the seminar; she and Galen provided support and encouragement for this event.
.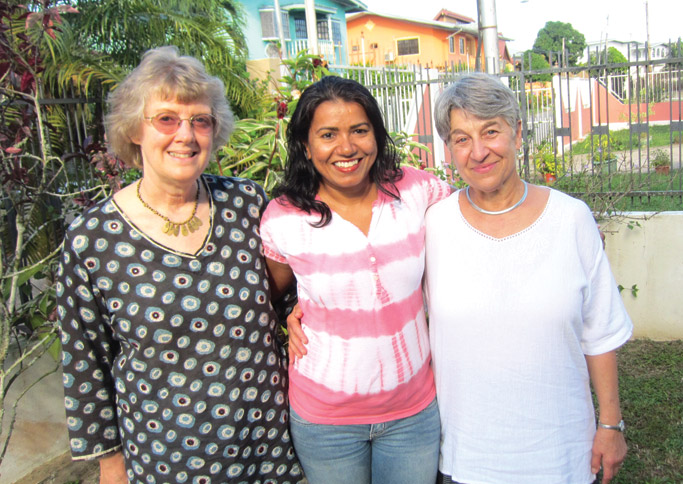 (l to r) Rhoda Keener, Marsha Ragoonath, Carolyn Heggen, co-leaders of the seminar.