A powerful, challenging speaker shared his story of being delivered from a life of drugs and crime by the love and salvation of God to a gathering of 60 teenagers in Montenegro.
The young people from all over the country gathered on February 8 for worship after some of the teens had had an experience in Germany at a 'Mission-Net' conference.
We believe God orchestrated the event and answered our prayers for this particular one, so it would have drawing power for future meetings. Please keep praying for breakthroughs.
.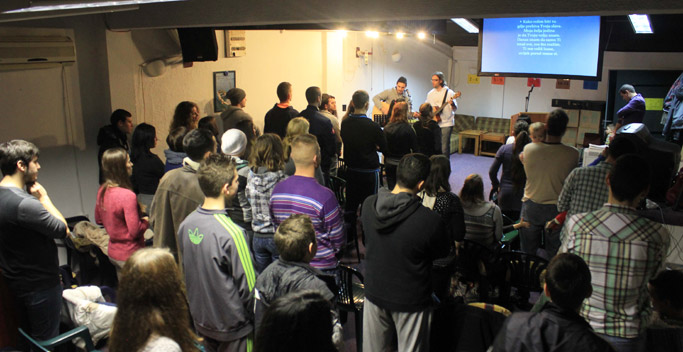 Youth sing praises to God during the opening worship session.
.
The evening opened with songs of worship, it was powerful to hear the youth singing praise to God, the songs were led by leaders from Niksic. Next, Lazar Simonovic shared from God's word, he connected God's plan to pour out His Spirit on the nations, tracing from Moses' prayer in Numbers 11:28-29, "[…] Would that all the Lord's people were prophets, and that the Lord would put his spirit on them!" to Joel 2 to John 15-17, to Acts 1-2.
.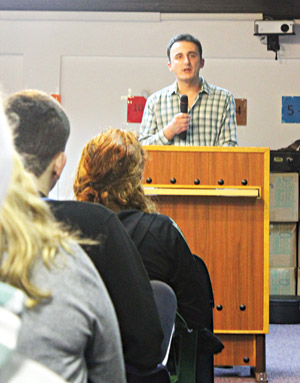 Connecting these passages with his testimony of God's mercy on his life, leading him to salvation and to Jesus being Lord of his life, he then challenged the young people to pray and see if God would meet them in changing areas of their lives based on some challenges in Matthew 5-7. His audience seemed riveted on his every word.
After a brief pause for food and fellowship, we broke into four groups and prayed for the four quadrants of the country, praying for folks to come to salvation and relationship with God.
We really sense God was in it all. This is where God is working and we are able to join His work here. We believe that God is beginning the transformation of this nation.
Lazar Simonovic speaks about his life transformation through Christ at the gathering. Photos courtesy of authors.
Filed in: All posts