Youth show deep commitment, longing to know God
Posted on April 8, 2014 by VMMissions Staff
While there have been times where we have struggled to find adults who are yearning to dig deeper into God's Word or commit to meeting regularly for a Bible study, we have been blessed by the youth in our youth group.
Most of them show a deep yearning to know more about what God has to say through the Bible and a deep commitment to the youth group. We have been able to have some deep and real conversations when we studied about forgiveness, we have seen the youth challenged as we dug into Daniel's life, and we are now starting to see what God would have us learn from Job (per request of 'our' youth!)
Walking alongside our youth has been a joy and a challenge. Sometimes they ask the hard questions where we can only say, "You're right. It's not easy!" and "We don't know."
Sometimes we hear things that they are going through that the only thing we can do is hug them, pray for them, and tell them that we are here for them whenever they need us to support them.
.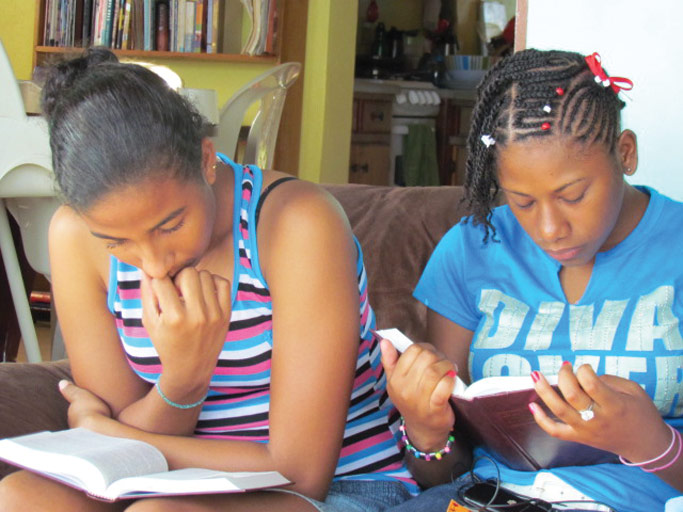 Abby and Shanice during a Bible study. Courtesy photo
.
God is working in their hearts and in their lives as we continue to meet, read, discuss and enjoy each other's fellowship. It brings us so much joy to see them grow in their relationship with Jesus and their knowledge of the Bible. We continue to pray that this time of seeking God will strengthen them for whatever comes in their lives and that they will continue to be dedicated to reading God's Word and spending time seeking relationship with God.
As we are preparing to end our term here, please join us in prayer that God will raise up a committed Jamaican Christian adult to continue our work with the youth.
Filed in: All posts