The Impact of Ministry Collaboration
Posted on May 25, 2023 by Jon Trotter
Partnering with the global church has enriched the outreach and mission outlook of Iglesia Shalom, a church plant in Waynesboro, Virginia.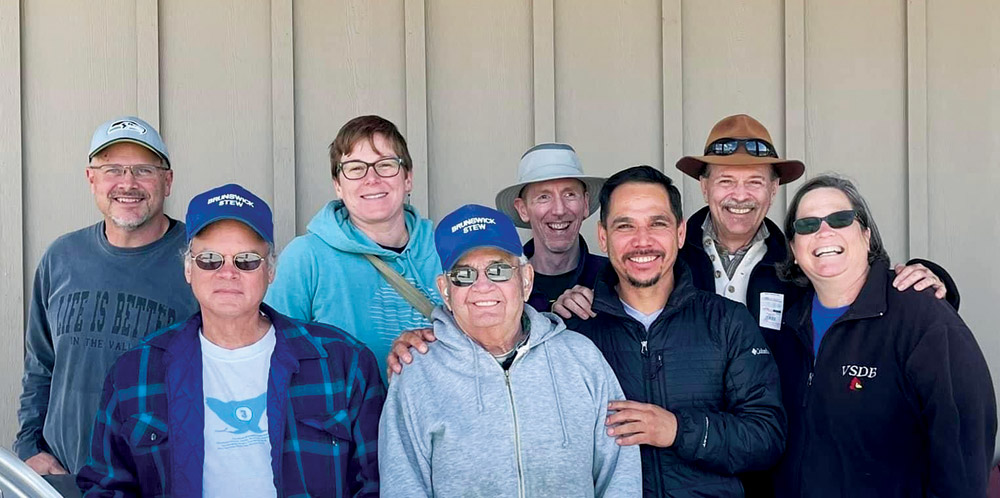 Armando and Veronica Sanchez with members of their Ministry Support Team and other partners in Virginia Mennonite Conference's Southern District. Left to right: Kevin Goertzen, Ronnie Grove, Kacy Spooner, Gene Grove, Chris Moore, Armando Sanchez, Joe Arbaugh, and MaryBeth Heatwole Moore. Photo courtesy of Veronica Sanchez
Our ministry of church planting, pastoring, and gospel outreach has been deeply impacted by partnerships that God has brought together. We know that God is on mission in the Waynesboro, Va., community where we have planted a new community of faith.
We have been in fellowship with Waynesboro Mennonite Church in various ways: spending time together at Christmas, bilingual church services, and sitting down together at tables to share American and Latino foods and fellowship. Each community is learning from the other's culture. We view this as a way of praising God together in the unity of the Spirit. We share a time of fellowship for an afternoon, including Mexican-style roasted corn called 'elote,' playing games and music, all as co-laborers in Christ without distinctions of race, economic status, or educational background. These times of fellowship have made the congregations experience a wonderful sense of unity from the Holy Spirit.

Each community is learning from the other's culture. We view this as a way of praising God together in the unity of the Spirit.

We have also participated in the SWAP (Sharing With Appalachian People) program in partnership with VMMissions, supporting a family that needed a renovation on the roof of their house. The owners of the house were surprised when a group of Latinos appeared in their community to do this work with love, and to bless their family. Seeing the passion of the leaders of the SWAP program, and their testimony, motivated us to continue collaborating with the global church, and to continue impacting others by working together to bring joy to families in need. Together, we do more.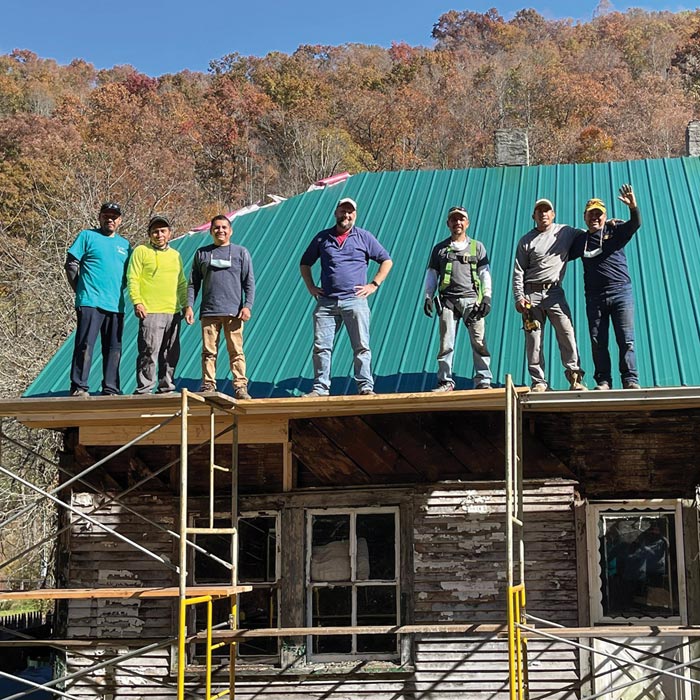 Serving with SWAP: (left to right) Giovanni Castaneda, Bonifacio Hidalgo, Eliseo Santiago, David Gingerich, Armando Sanchez, Jordan Hernandez, and José Luis Hernandez. (Not pictured: Veronica Sanchez, Tomasa Castaneda). Photo by Veronica Sanchez

In planting and pastoring Iglesia Shalom Nuevo Comienzo, we have developed a ministry network with the Mennonite churches of Virginia Mennonite Conference's Southern District. Through that partnership we have received spiritual support, economic and pastoral care, and prayer. We have collaborated in social events where we share a good dinner and then share the good news of Jesus with others.
We also continue to relate to churches in Mexico. We have walked alongside them, carrying the good news at Christmastime to people who, at that time of year, are the most open to receiving the message about Jesus. We gather in the church of Pastor Godinez in Aguascalientes, to participate in their community lunch program, which feeds fifty women and children. We lead a Bible study for them and bring them gifts and Bibles. For us, the most rewarding part of this experience is the smiles we get from the children!
---
Veronica Sanchez is a church planter and co-pastor with her husband Armando at Iglesia Shalom Nuevo Comienzo, Waynesboro, Va.
Filed in: All posts, Transforming