Being On Mission Through Our Prayers
Posted on May 30, 2023 by Jon Trotter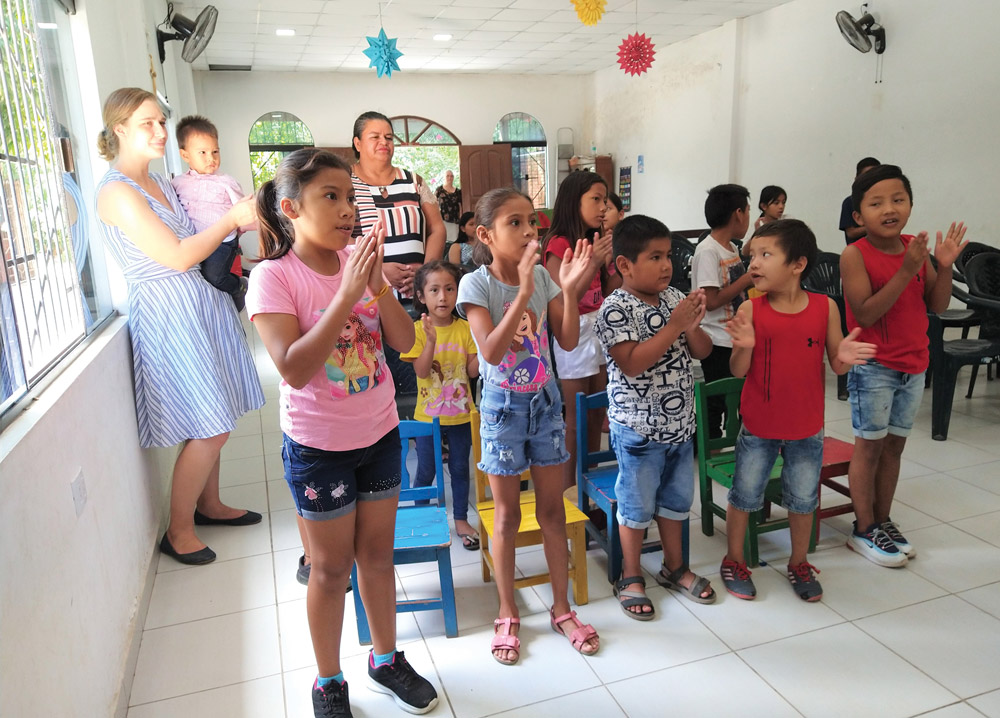 Elena and Freddy Satalaya serve in Santa Cruz, Bolivia, with the Iglesia Evangélica Menonita Boliviana. Children at the Esmirna church's Samuelito daycare center worship at the church. Photo by Mennonite Mission Network

By Elena Buckwalter de Satalaya
To be 'on mission' is not only a state of being. It is also an active, ongoing assignment. Our family has spent the last four years on mission in the Peruvian Amazon, dedicating both our work and our everyday life to sharing Christ's love with the families in our community.
This year, we were transferred to Santa Cruz, Bolivia, to participate in God's mission through the Esmirna Mennonite Church. The first few months in an assignment are always full of learning and adjusting, a humbling time as any past ministry experience might not quite apply to the specific culture, ministries, and vision of the church in the new location. In the sacred space of laying down what we think we know, we watch to see what God is doing—and how we can participate.
On mission might also be the perfect way to describe the church with whom we're working in Bolivia. Because we live in the church building, we get to see firsthand the way the congregation relates to the church.
Weekly prayer services are a vital part of the community's life—conversation, prayer, sharing one another's burdens, lifting up the ministries of the church—I think those prayers are what give the church so much energy and drive to serve the community.
The youth spend every weekend plus a lot of evenings together at the church, playing and planning outreach activities. Members with full-time jobs willingly give their days or hours off to volunteer at the church's daycare center or to prepare materials for the extensive Vacation Bible School program that takes church members to many different parts of the city to share God's love with children. The members of the church, and the church as a whole, are consistently in a state of being on mission, while actively participating in God's work in the church.
How can we be on mission together as a global church? I have been inspired and challenged by the importance that prayer plays in the life of our Bolivian church family, not only praying for one another, but lifting to God the ministries of the church, and other churches they are connected to around the world.
Sending and receiving mission workers undoubtedly brings us closer to the global community. However, it is just as important, if not even more so, to pray for the global church and the people and communities it reaches. We should never view placing our plans and goals for ministry in God's hands, and asking for his guidance as we work, as a secondary part of mission work. Praying for our churches, our global community of faith, and the ministries through which God works, is essential to be on mission as we partner in God's work.
---
Elena Buckwalter de Satalaya serves with her husband Freddy and son Matías in Santa Cruz, Bolivia with Mennonite Mission Network and VMMissions.
Filed in: All posts, Transforming