Worker Profile: Kate Miller
Posted on September 11, 2023 by Jon Trotter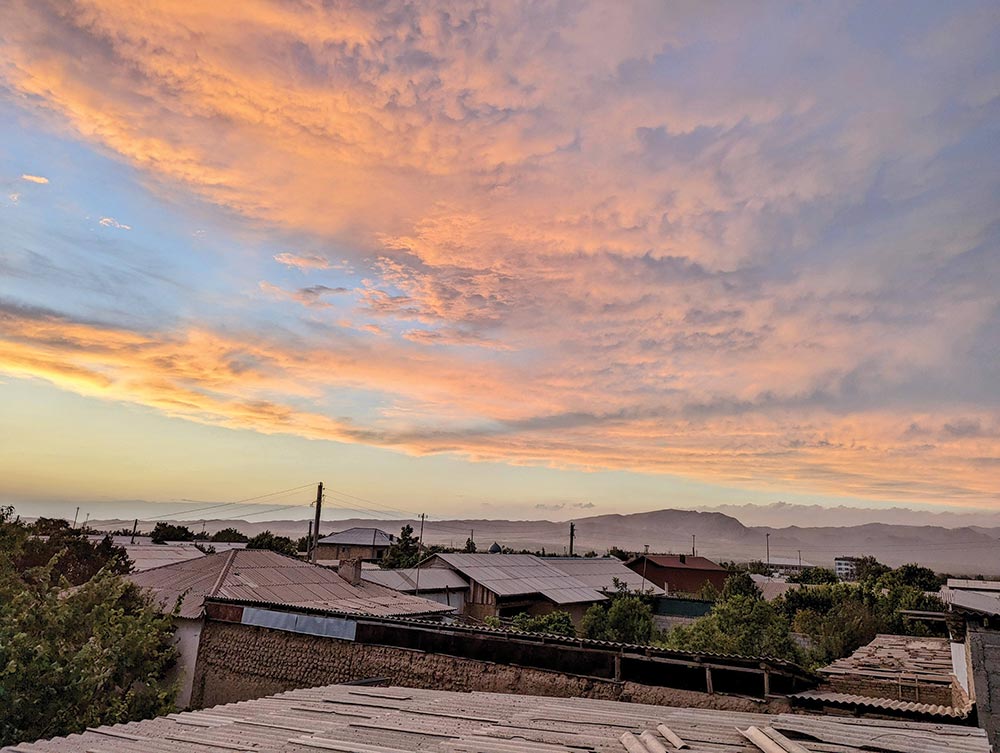 The sun sets over Kate's village in Central Asia. Courtesy photo

For security, her name has been changed.
Service program: tranSend
Serving since: 2022
Assignment:
I am a computer programmer for a U.S. company that is partnered with a company in Central Asia as business for transformation (B4T). My company asked me if I would consider moving and working with the office in Central Asia to help strengthen the relationship between the two companies. I immediately said yes. I've always dreamed of living in a Muslim country, and I am grateful for the way that everything so effortlessly fell into place for me to go. I currently live with a local family and am working in a computer programming business in a nearby city. My year-and-a-half commitment ends at the end of this year, and I am still praying about what my life will look like after that.
Biggest challenge:
Challenges have changed as I've lived here longer, but one of the most consistent challenges is learning to live without much of a believing community. It's been an adjustment moving from the States, where I am surrounded by believing family, friends, and a church. Here there are only a handful of believers, and they don't speak my native language. There is something very surreal and eye-opening about living with a Muslim family and seeing them live out their convictions. My prayer is that, as I live everyday life with them, I can show them Jesus and share with them about what I believe (as my language level allows).
Biggest joy:
To build off of my biggest challenge, one of the biggest joys is seeing people count the cost, take a stand, and accept Jesus. There are only a few believers in the village that I live in, but the ones who have accepted Jesus as their Savior are so hungry to learn and grow in their faith. It has been so impactful to hear them share testimonies of how Jesus showed up in a dream, or how they happened to get ahold of a Bible and couldn't stop reading it. This has been such a big faith-builder in my life. Jesus is moving and working in the Muslim world, and I am so grateful that I get to have a front seat view of it.
A typical day:
In the mornings, I have language lessons for two hours with a local language helper. After that I go to the programming office, where I work until about 5:30. There are currently about forty Central Asian programmers at the office, along with one of my teammates and I. Working at the office has been such a good way to get to know people. I am extremely blessed with how warm and welcoming they have been to me.
After work, I head back home and spend most evenings there with my host family. Because I am a single girl living in a village in Central Asia, most of my social life is done during the day or in the neighborhood. It's hot during the summer, so after the sun goes down we will sit outside, talk to neighbors, and eat sunflower seeds. It's a great time for me to get to know people, practice my language, and get the latest on the neighborhood gossip.
Filed in: All posts, News, Transforming