Worker Profile: Rissa Martin
Posted on May 30, 2023 by Jon Trotter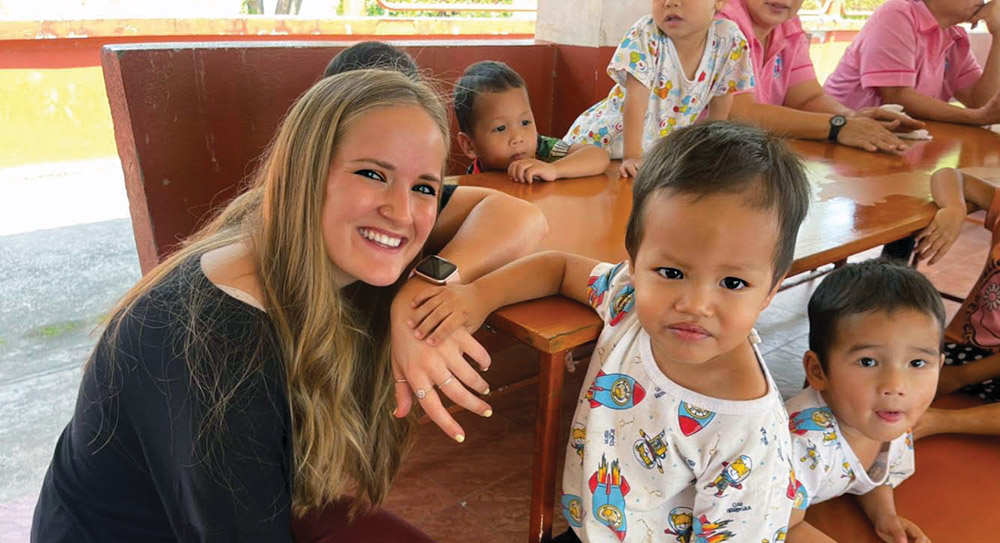 Rissa with children at Agape Home, Chiang Mai, Thailand. Courtesy photo

Service program: tranSend
Serving since: 2022

Assignment:
I serve at Agape Home, an orphanage located in Chiang Mai, Thailand. We care for over 100 kids from age 0-21 and raise them up to know and love Jesus until they join Thai society or become adopted. I had volunteered at Agape Home several times before returning as a VMMissions worker.
My roles are to coordinate with incoming volunteers, teach English in our Montessori Preschool, and manage the website and social media. I am committed to be here for one or two years under VMMissions' tranSend program.
Biggest challenge:
When I was here last time serving at Agape Home, I was a nanny and only with the kids. Now that I am working more in an administrative role, I have found challenges in managing my office work while also trying to love on our kids well.
My greatest hope is that our kids would leave Agape someday feeling loved by us and by their heavenly Father; so I have found it necessary to be more diligent in asking the Lord for his wisdom as to where to spend my time.
Oftentimes, I put a lot of pressure on myself to do as much as I can as fast as I can, but since I have been back, I have sensed the Lord pushing me to pursue the little moments: like feeding our newborn a bottle or braiding hair with our teenagers.
Biggest joy:
My greatest joy is getting to see the kids we raise at Agape, and the nannies we hire to care for them, meet Jesus and choose to spend their life in relationship with him. Getting to see these women and kids being lights in their communities, which are full of darkness, is a huge gift for me to be a part of.
Recently, we had a baptism service. Eight of our kids and six of our nannies dedicated their lives to the Lord. It was one of the most beautiful things I've ever had the privilege to see. My heart aches for the Thai people and the lack of hope in their religion most of them choose to follow. So getting to see the Lord open the eyes of his children is a really precious thing for me to witness.
A typical day:
At Agape, no day looks the same, but an average day might look like this: It always starts with morning worship, including everyone on our campus, where we pray, sing and teach. After this I often spend time teaching English in our Montessori school, working on newsletters or blogs for our website, or meeting with potential future volunteers.
Throughout the day needs often come up and I can be our errand runner, or fill in for a room short of staff, always looking for moments to snuggle with our little ones. Now that our kids are on summer break we have many activities going on and lots of teams coming to help out. Everyday is busy, but always filled with lots of joy and sunshine!
Filed in: All posts, Transforming