Call to Prayer: Living the Lord's Prayer
Posted on May 30, 2023 by Jon Trotter
Passion for God's kingdom motivates us to live Jesus' prayer in community—full of care, forgiveness, deliverance, and celebration.

By Carol Tobin
Who among us doesn't know the Lord's Prayer? Its familiar cadence seems somehow sufficient to transport us directly into the presence of God. We know what it sounds like on our lips, but what does it look like in our lives as living words, lived out?
For one thing, this so-called "Our Father" would have to be lived out by a community of God's sons and daughters, participating together in behalf of the kingdom purposes of the Father.
A few years ago, my husband Skip and I caught a beautiful picture of just such a thing. We were visiting the precious brothers and sisters from the Life Enrichment Church in northeast Thailand. A dinner was held in our honor: a feast of fish and sticky rice which several dozen of us ate sitting politely on rice mats on the floor of a leader's home.
But the buzz of joy in the room had nothing to do with us. Our friends were reveling in the kingdom, power and glory of God revealed in the context of their activities earlier that week. The story became clear, and it was a beautiful expression of what our Lord prayed would be the shape of the life of his family: vision for the kingdom, generosity in knowing that provision comes from God, power in the ever-extending flow of forgiveness, deliverance from evil and resounding celebration.
A young woman named Ying had died. She was HIV-positive and blind. She had heaped shame on her family; fellow villagers wanted nothing to do with her. But Yute and his wife Tukata, leaders of a village church and HIV-positive themselves, were ready to proclaim to Ying the same generous forgiveness that had changed their lives. They poured their loving attention upon this dying woman. Before Ying died, she told her new friends that she had had a dream in which she was dressed in pure white, standing cleansed and whole before Jesus.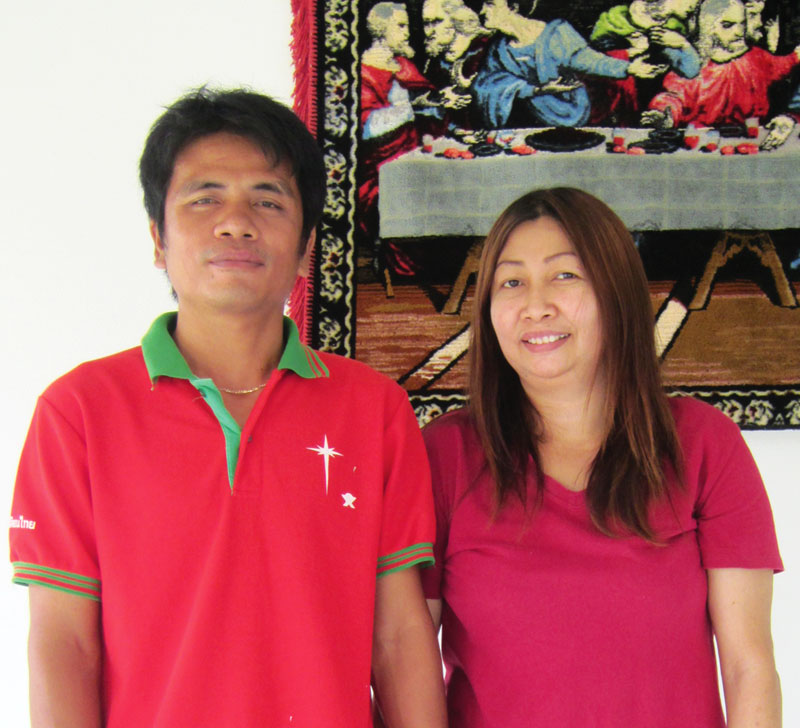 Yute and Tukata. VMMissions photo

Despite the fact that there is usually great resistance by village leaders to Christian funerals, Yute forthrightly asked the headman for permission to hold a Jesus-centered ceremony at the temple. He was told that because the spirits there were too fierce, the monks had fled. The headman learned that day that "God's children" are not afraid of fierce spirits! "He delivers us from evil."
The greatest shame in Isaan culture is to die without friends gathering, without the monks chanting their blessings. This is what Ying's family expected. But instead, Life Enrichment Church members from different house churches showed up in force and, as is the custom, stayed with the family until the ceremonies were completed. Then the family could rest assured that the spirit of the deceased would have no further reason to linger about the premises.
Contrary to custom, they did not come eager to stay awake through those long nights gambling and eating and drinking at the expense of the host.

They came with food and musical instruments, ready to sing in the local style and share stories of how their lives have been changed by Jesus. Here was the power of a family on mission together! Needless to say, Ying's relatives were powerfully impacted. "I want to join this Jesus family too," declared her uncle.

So, there was euphoria at the party we attended. Our friends experienced the joy of working together to see a little slice of God's kingdom come and his will be done, on earth as it is in heaven! They had not simply prayed the prayer; they had lived it as well.
Isn't this what we long for? May passion for the kingdom motivate us as we pray our Lord's Prayer! May we also leap at opportunities to live it as a community of God's sons and daughters on mission together with the Lord!
---
Carol Tobin is a retired VMMissions staff member and mission worker and volunteers as a mission advocate.
Filed in: All posts, Transforming