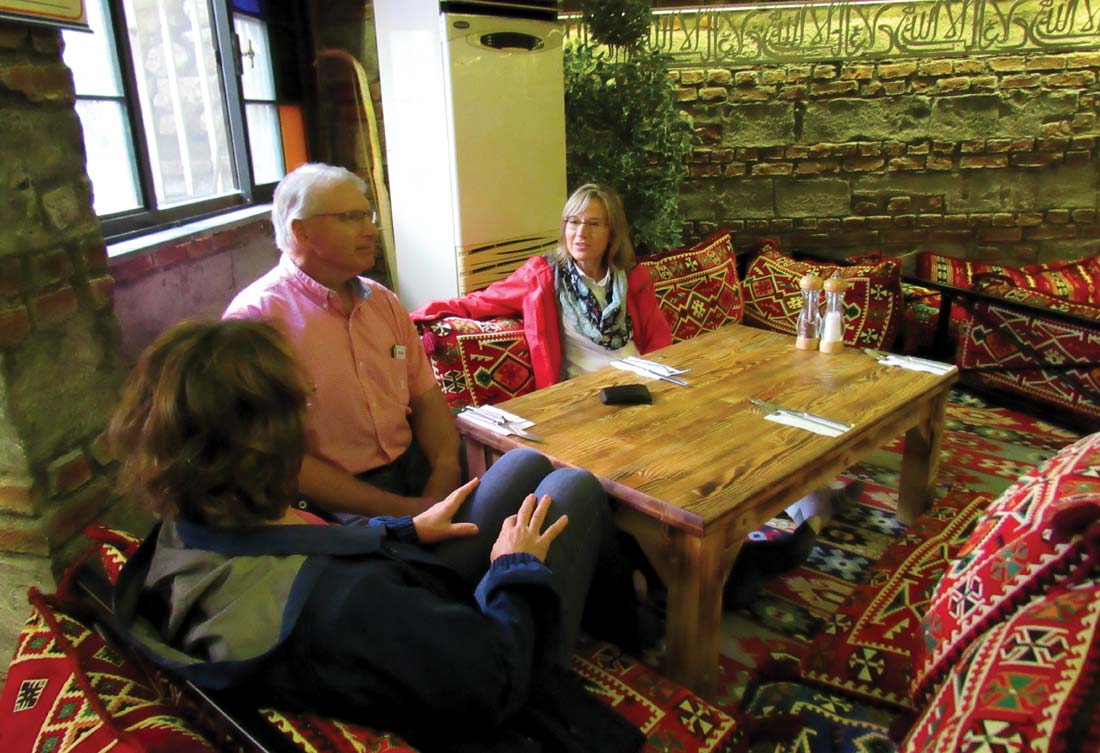 Lynn Suter (right), VMMissions Director of Operations, talks with Jewel and Dave Yutzy, owners of a Broadway, Va., agriculture business, about possible ventures during a trip to Eastern Europe. Courtesy photo

By Lynn Suter
By overnight ferry, one can cross the Adriatic Sea from Italy to the Balkans. When Eastern European communism crumbled in the early '90s, VMMissions workers boarded those ferries and went, first to Albania, and eventually to the former Yugoslavian countries of Kosovo and Montenegro.
As many of the early missionaries had a background in farming, they naturally set to work supporting impoverished socialist-era farmers who found themselves in the strange fields of a market economy. With Albanian partners, they established farmers' cooperatives, provided revolving loans, offered technical assistance, and built infrastructure. In all these relationships, the missionaries witnessed to the comprehensive good news of Jesus.
Willard Heatwole, a missionary who, with his family, had farmed in Jamaica while serving as a church planter and pastor there, came with wife Melba to Albania during this time to help with this ambitious agricultural development program. His son Gerald summarizes these years, as well as his parents' service in Costa Rica. "Dad invested in communities. He was always concerned with the physical and spiritual needs of people."
This body-and-soul investment in community is still motivating VMMissions workers today. Business and practical professional skills are vehicles enabling the gospel to cross into places closed to traditional mission initiatives but open for business. The "Why are you here?" question posed to many of our workers finds an acceptable answer: "To start a business that God will use to bless your community." These workers do not hide their identity: they incarnate it in the marketplace. We see this in a computer business and language learning school in Central Asia, a thriving school in Albania, and a coffee shop for women in Kosovo. And, we hope, more is ahead.
In June, VMMissions' Board created a subsidiary* with its own board of managers to advance the strategic priority of "equipping disciples to engage work as witness." This includes business as mission (or business for transformation), like the examples above, as well as creating pathways for professionals to serve internationally. Dr. Richard Keeler, whom VMMissions sent to Trinidad to serve patients with Hansen's disease is a shining example of this; not only was the disease virtually eradicated as a result of his work but the Keeler's gospel sowing brought forth the beginnings of the Mennonite church in Trinidad! Today, many millennials are asking how they can serve as nurse, teacher, social worker, computer programmer, or graphic designer, reclaiming vocation as ministry.
And seemingly just on time, an opportunity has come to help launch kingdom businesses in Kosovo. A former Muslim – now pastor and church planter whom God dramatically called to himself – has identified big goals for the initiative in which we are being invited to participate: "to prosper more gospel in Kosovo by opening jobs for our youth," "to help our church be self-supporting in the near future," and "to help create jobs for our church members so they can stay in country." Goals that are impossible without the Spirit leading and empowering. Goals that are impossible without faith to try. Goals that hold the hope of a whole gospel coming to Kosovo.
Thus, the call is going out for business, professional and trade men and women who love Jesus and believe that the marketplace is a place for the good news of the gospel. Who will get on board?
*Name of subsidiary withheld to preserve its ability to operate in secure locations.
Filed in: All posts, Transforming