Our family moved to Kosovo in August of 2013. We are in the "culture, language and relationship building phase" of our time here.
Because of our infancy in our language acquisition, our ability to communicate with the locals is fairly limited. Our actions are the loudest and clearest voice we have.
We live in a community that was destroyed by war 15 years ago. At that time, our neighbors lived amidst people of the opposing side. For this reason, they are fairly guarded initially. Once we have been formally introduced by one of our friends here, doors are opened and we are warmly received. If this introduction has not taken place, we find it harder to initiate relationships on our own.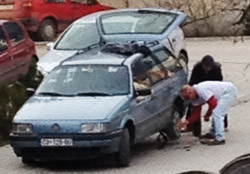 Recently, from the comfort of my home, I was an unseen observer to a man in his late 70s that was stranded along the side of our road with a flat tire. My husband Vince was on his way home when he happened upon this stranger. Abram initially declined Vince's broken Albanian offer to assist him. Noticing that he was unable to even loosen the lug nuts, Vince stepped in. Abram was very grateful.
He took Vince for coffee as an expression of his gratitude. With the help of an English-speaking friend, Abram told Vince that many people had passed by, not even looking at him. Yet, here was a person who he couldn't even communicate with, willing to help.
I know that God has placed us here for His purpose. Even though specifics of this plan aren't clear to us, along the way, we are still called to be His light to the world. My heart is warmed by this event and challenged to walk with open eyes—being aware of "Good Samaritan" opportunities.
Filed in: All posts