Local mission on the map
Posted on November 2, 2017 by Jon Trotter
In the Fall 2017 issue of Transforming, we consider how we live into our stated priority of "joining the Holy Spirit's work of renewing and growing the church." As Director of USA Ministries, Skip Tobin is well-positioned to see the exciting things that are happening as he works to resource and mobilize congregations in mission.
By Skip Tobin
A world map graces the walls of the VMMissions conference room. Colored pins mark particular spots on the various continents, and strings trace the connection to particular VMMissions workers. However, we have had to adjust our pinning practice to accommodate the reality of an otherwise very dense cluster of eight pins in virtually the same spot: 10 joy-filled, energized local mission workers:
So how can we account for this bubbling up of the new in our local context? The source, I realize, is the Spirit of God energizing us—the church—in mission. As an agency, we are simply discovering ways to align ourselves with what God is already doing.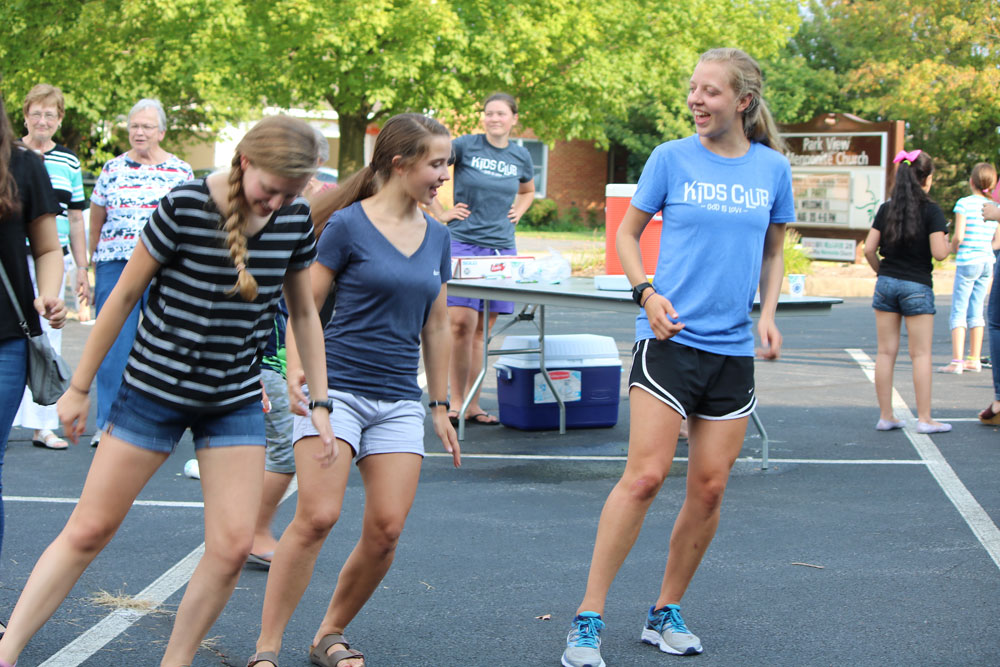 At Park View Mennonite Church's Kids Club Block Party, Michaela Mast teaches Sarah Keim (left) and Hannah Mast steps to a song. Photo by Trina Trotter Nussbaum

Through what we call Cultivate, we have been providing a variety of tools which help us to be intentional about discipleship. Why? Because when we are intentional about developing the very character and competencies of Jesus as his disciples, we soon find ourselves learning to join Jesus in his mission.
For example, I have been inviting pastors and rising leaders into "huddles." Here, the clear agenda over months of meeting together is that our lives will be reshaped around two questions: "What is God saying?" and "What am I going to do about it?" Folks experience being discipled themselves and gain familiarity with simple tools to disciple others. From this simple center comes the capacity to engage the world in mission: not striving out of heavy, joyless obligation, but, rather, joining God's mission as part of our DNA as Jesus' disciples.
Our lives will be reshaped around two questions: "What is God saying?" and "What am I going to do about it?"
Marvin Lorenzana is a prime example of how fruitful huddles have been. He has carried his own Spanish-language version of huddles into his vast network of relationships with passionate Hispanic leaders, many of whom carry vision for church planting. Some of these leaders are in turn raising up a new batch of missional leaders. Through Marvin's relationships with leaders such as Alfonso Alvarado, and the resources that flow through those relationships, we are helping to bring their church planting dreams into reality. God is moving among our Latino brothers and we have the opportunity to get in on the life!
Alfonso is the first Hispanic church planter to be launched under a new "Covenant Partnership for New Church Initiatives" model. God virtually dropped the model into my lap when I was attending a workshop by David Boshart, Mennonite Church USA's new Moderator, at a church planting event. At the workshop, he presented an outline of the model which we have adapted and begun to use.
The Covenant Partnerships model is proving to be very helpful. In the past, there have been multiple examples of church planters beginning too quickly, with too little support—relationally and financially. Now, the bar is being set higher for both the church planter and existing partnering congregations.
The covenant partnership that we co-create specifies the responsibilities for the church planter, the partnering congregations and VMMissions. The beauty of this is the mutual blessing for everyone involved.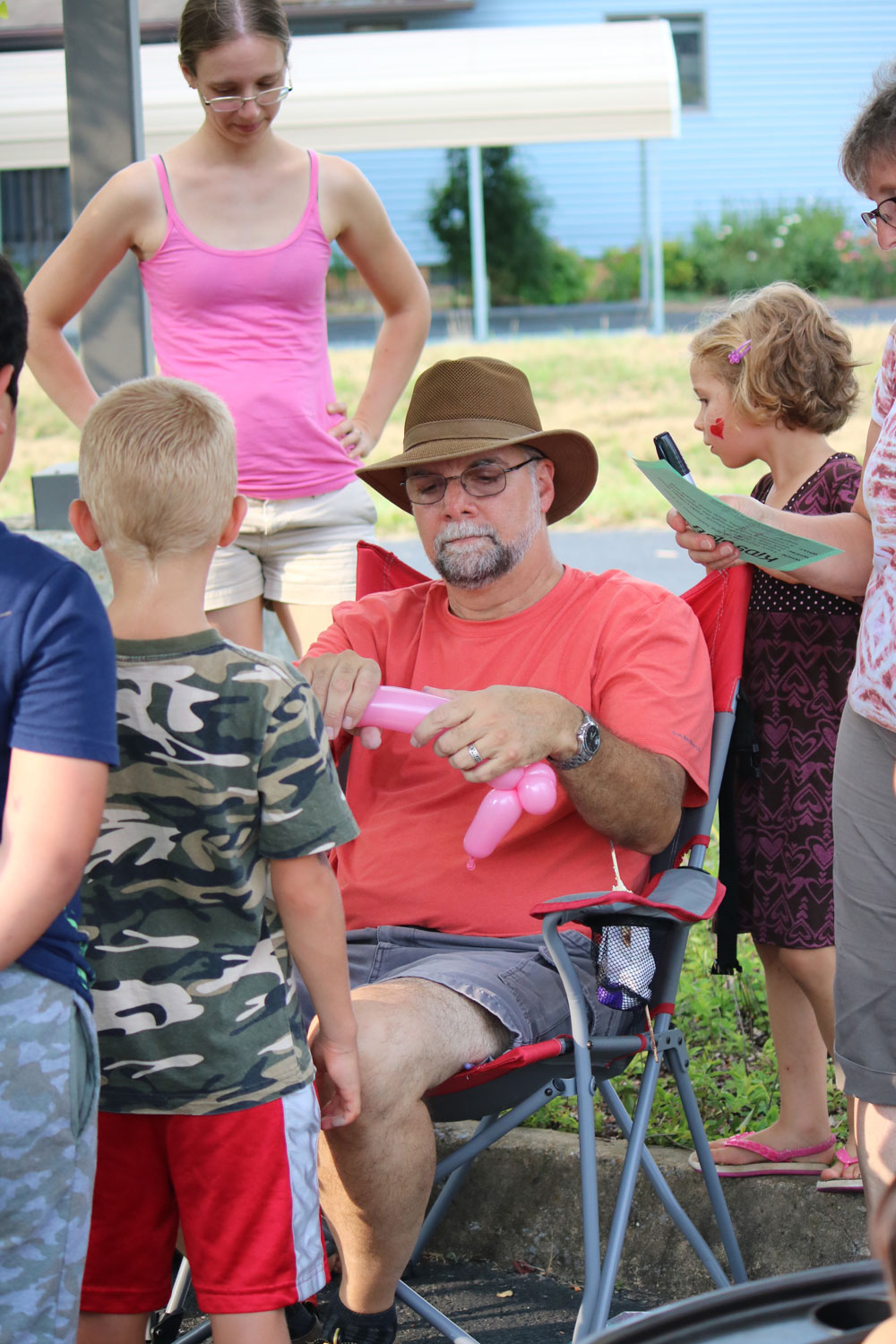 Phil Kniss, pastor of Park View Mennonite Church, creates a balloon animal at a neighborhood Kids Club Block Party. Photo by Trina Trotter Nussbaum

We envision church planters bringing fresh vision and much needed passion to established congregations who can recognize their need for renewed confidence in the gospel. And we see established congregations bringing a spiritual heritage, a grounding in scripture, and a readiness to bless new churches, financially and otherwise.
It's been lovely to see this very dynamic in action between Alfonso's new church plant, Iglesia Menonita Monte Moriah, and the Northern District churches that gather around in support.
Another aspect of our shift within USA Ministries is that we are inviting local workers into a season of employment as VMMissions workers. This means that we can prioritize training, ongoing resourcing, regular mentoring, and the bolstered sense of identity as "sent ones" that these often bi-vocational folks really appreciate.
Seth Crissman shares, "Let me tell you, it's been incredible. If the seed of God's good news is sown into us as soil, VMMissions has provided a raised bed to hold us, our soil and our work as we allow God's word to take root in our hearts."
These things that we provide are, however, only part of the story. Another big, beautiful part is played by the Ministry Support Teams (MSTs) that form around each worker. I have been particularly awed by the level of loving, practical support pouring out from these teams! Regular heartfelt prayer, faithful financial giving and practical care have been flowing out with passion.
I am excited about all that is happening within VMMissions USA Ministries: my daily interactions with workers and prospective workers, the requests for tranSend interns from local pastors, the interaction with district leaders regarding their missional hopes, the ground work of discipling that happens in my coaching contexts and in the many huddles that have been launched.
Most of all, I am full of gratitude to God for not abandoning his church, but for giving us his heart and allowing us to partner with him in what he is doing.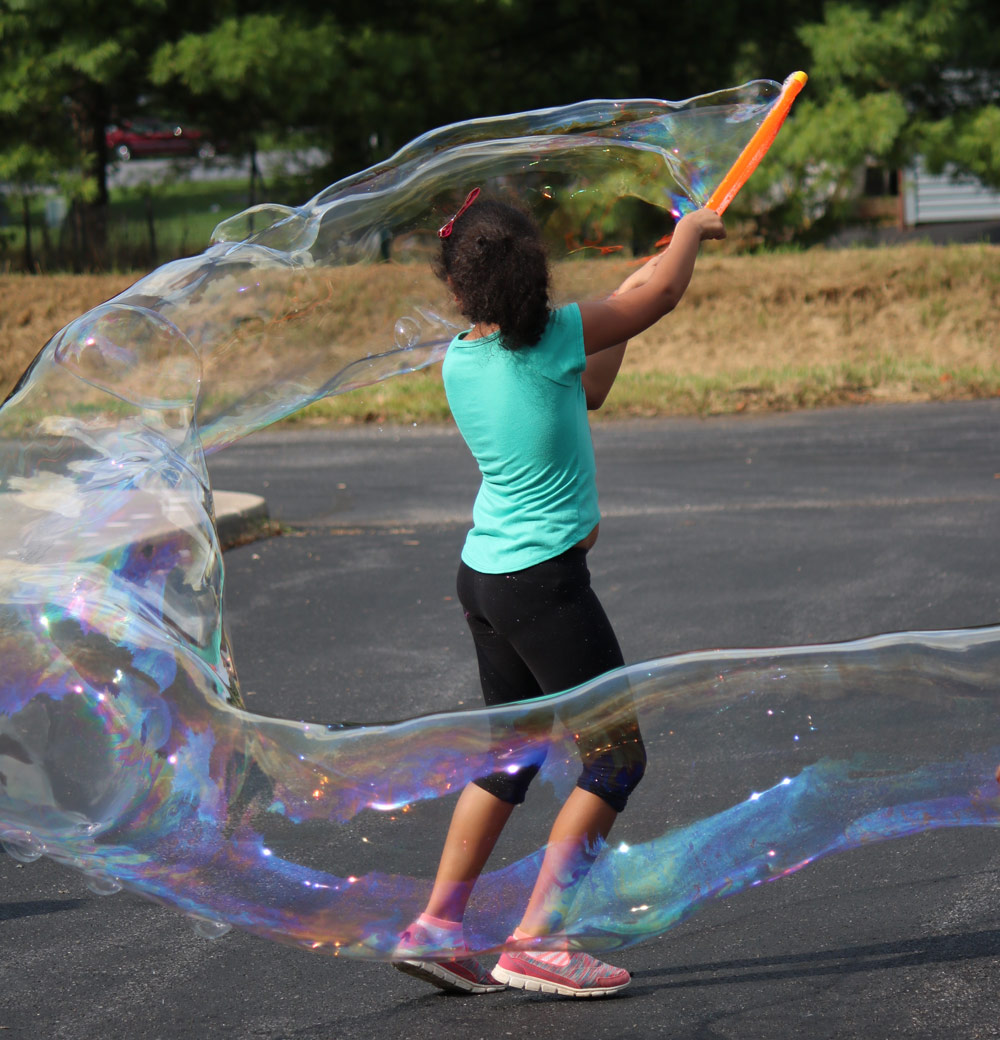 A young participant at the Kids Club Block Party enjoys creating huge swirls of bubbles. Photo by Trina Trotter Nussbaum
Filed in: All posts, Transforming