The Gospel poured out: a celebration of Eberlys' retirement and long-time service
Posted on February 28, 2013 by VMMissions Staff
On December 27, VMMissions held a celebration for Willard and Eva Eberly for their forty years of ministry in the Mediterranean region.
After a worship song led by Shawn Green, Janet Blosser presented a slideshow reflecting on their 40 years of ministry. Their initial assignment included planting churches in Sicily; later they became Mediterranean Regional Director and Assistant, expanding the work to include Albania and the Balkans.
The Eberlys not only touched the lives of many Italians and Albanians, but opened their hearts and home to many missionaries who came and went through the years.
The Eberly children: Maurita, Mike and Andy were present at the celebration and shared their reflections and affirmations of growing up in Italy and living with missionary parents.
Loren Horst, President, gave recognition of their 40 years of ministry to VMM and presented the Eberlys with a custom handmade pitcher engraved with the verse from II Corinthians 4:7—"…for we have this treasure in jars of clay." It is symbolic of the treasure of the Gospel within the Eberlys that has been poured out and given freely to others. Many lives were transformed by the Holy Spirit over the years through the ministry of the Eberlys.
VMMissions recognized the Missionary Support Team of the Eberlys, who met to pray for the Eberlys each month, as well as the many people who had supported them over the decades. Many who were present received the gift of the booklet written by Willard & Eva that contained inspiring stories of persons that Eva wrote about persons' lives transformed by the Gospel.
On January 8, the Eberlys returned to Italy to live in northern Italy close to Mike and his wife Prisca and two children. They look forward to caring for their grandchildren as needed and finding other ministry opportunities.
.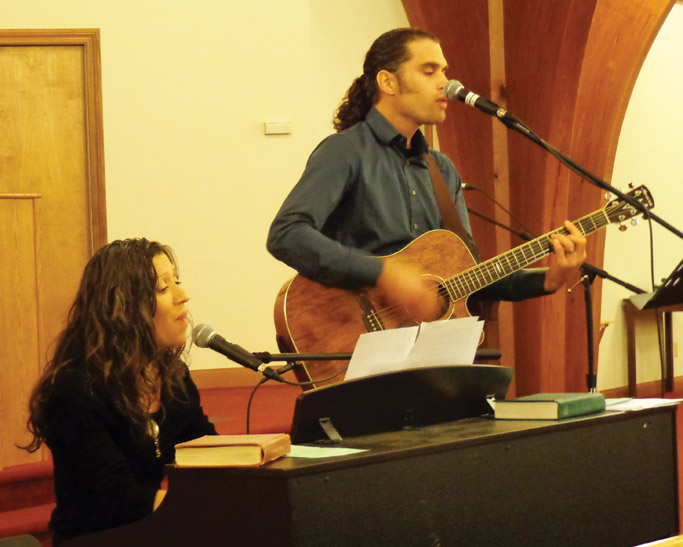 Maurita and Mike Eberly, daughter and son of Willard and Eva, performed a medley of Italian worship songs that had been significant for their parents. Photo by Ken Horst
Filed in: All posts