VMMissions Opens New Category for 'Marketplace Workers'
Posted on April 19, 2022 by VMMissions Staff
Since the early Christians fled Jerusalem "preaching the good news wherever they went" (Acts 8:4), believers have understood their work as an expression of worship and witness to Jesus.
VMMissions has created the "marketplace worker" category to support and equip believers to "live out God's kingdom in every sphere of life." This category enables persons employed in trades or professions—both domestically or internationally—to receive coaching toward fruitful ministry in the workplace, and to network with other Christians who see their work as ministry.
In particular, VMMissions hopes to support persons who desire coaching in evangelism and church planting.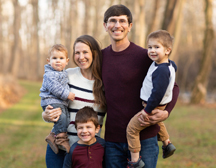 One U.S.-based couple has already stepped into this new opportunity: Ben and Risa Yutzy are 'making disciples who make disciples' among the Spanish-speaking farm workers with whom they work in Timberville, Virginia. As a couple, they are happy to invite VMMissions to help them learn as much as they can about how to bear witness to Christ and nurture simple, multiplying expressions of church among the many unchurched persons with whom they relate.
Filed in: All posts, News, Transforming