Mission on the Farm
Posted on August 14, 2023 by Jon Trotter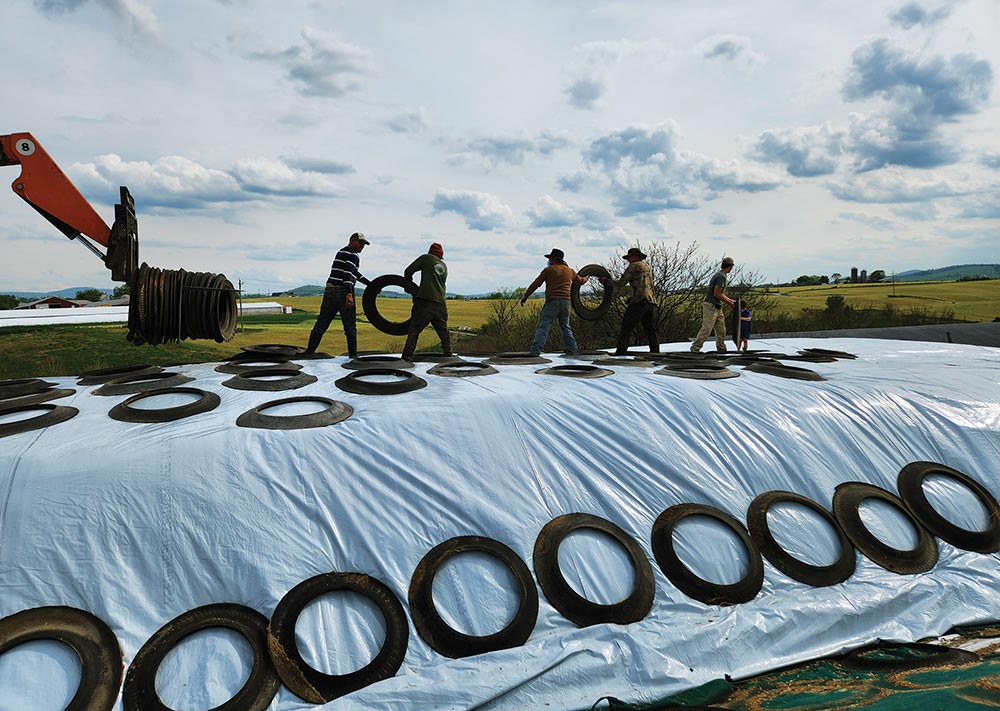 A busy day spent covering the bunker silo. All photos courtesy of Ben and Risa Yutzy
Marketplace Worker Ben Yutzy lives out God's call to minister to those in need of the gospel at his dairy farm in Timberville, Va.

By Ben Yutzy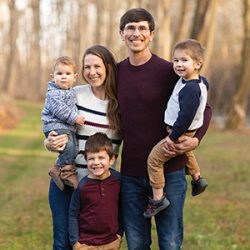 Am I a missionary?" My young niece asked me recently.
"Well, what do you think?" I replied.
"I'm having trouble answering that question. My parents are missionaries, but I don't know if I am."
"What does it mean to be a missionary?" I asked.
"To go to another country and tell people about Jesus," she replied simply.
Today was another day that I woke up and went to work. I checked some reports, made some decisions, worked through a variety of issues with my team, drove a tractor, moved hay bales with a skid steer, and checked on the cows and calves. All the usual stuff. And sometimes I wonder too: Am I a missionary?
Cows need to be milked and fed. Hay needs to be mowed and stored. Crops need to be planted and watered. It is rather unremarkable at times. Until the calves get out. Or the tractor breaks down. Or a cow suddenly dies. Or the power goes out. And there are a lot of potential mishaps like these in my field of work.
How does being a missionary of the good news of Jesus fit into any of this?
I grew up working on my family dairy farm. I had many thoughts of becoming a missionary in a far away place. I did some short-term forays in a few faraway places. I took the Perspectives on the World Christian Movement course, and even had some serious plans to go overseas for a longer amount of time. And yet there was something that was drawing me back.
God had a plan for me. A plan to be a missionary here and now, not waiting until I reached some far off place. I began by asking Jesus, where are you sending me? The workplace was obviously where I spent the most time, and after I asked that question, it became the obvious choice.
Jesus gave me eyes to see my coworkers with compassion and in great need of the gospel. I invited some of the guys I work with to walk with me in discipleship, and the Lord gave me a few faithful men. These men are now walking in discipleship with their coworkers. They have become missionaries on the farm, sent by Jesus to tell the good news to their coworkers. They use the Discovery Bible Study (DBS) method as a simple, yet profound, way to study the Bible and be the church.

I went to work, but instead I needed to be sent into the workplace by Jesus. I went to church, but instead I needed to be joined to others as sent disciples who prevail against the gates of hell.

Part of my day on the farm involves spending time praying with one of my managers, Eduardo. He has an employee, Juan, who was not performing well. His coworkers were getting tired of his lack of cooperation. Eduardo and I prayed together that he would have the words to speak to Juan's heart. Then Eduardo went and spoke with him.
It turned out that Juan, who goes to a local church, was trying to distance himself from his coworkers who smoke and use bad language, and as a result, they didn't want to be near him either, because he acted superior and ungrateful to them. Juan's coworkers were still giving him a ride to and from work each day, and offered him some of their own food without even getting gas money in return.
Eduardo shared his own testimony of being self-righteous and looking down on those who don't go to church. But now he knows he must have compassion on those who are sinners, because he wants God to have compassion on himself, a sinner.
After this conversation, it was obvious to me that something had changed in Juan.
I had a few minutes to talk to Pedro over lunch. He just recently stopped drinking alcohol, as he felt God was compelling him to give it up during his participation in a DBS group. He told me that he can now be present with his former drinking buddies and not have any temptation to drink. He is praying morning and evening for them to also come and find the newfound peace and confidence that he has in God.
I also spoke to Alexandro as he came up to me offering to share some of his food. I asked him what he is learning in his DBS group. He told me that he really had no interest in God before Rafael invited him into the group. He was an atheist and suicidally depressed. But now he is beginning to believe that God does exist and is good. He then went on to share about the very hard life that he and his family have gone through. He is starting to recognize that God has been present through it all.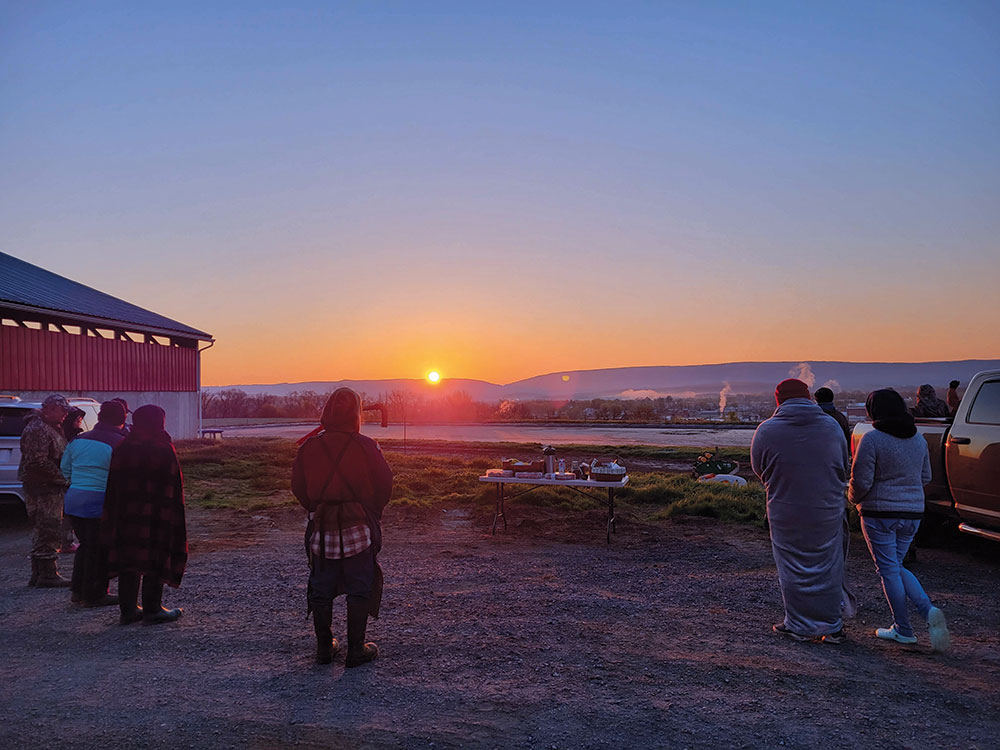 Farm workers watch the Easter sunrise over the manure lagoons with Scripture and sharing.

This day of mine that I described isn't too unusual. Some days I feel like I have more important things to do than to talk to my coworkers about Jesus or to pray. Sometimes I avoid sharing the good news because I already feel overwhelmed with all the things I have to do. Work on a farm often feels never-ending and overwhelming.
It used to be that I went to church on Sunday and went to work on Monday. I was going and doing all that was expected of me, but very little of it required God to show up. Church was something separate from my work. I went to work, but instead I needed to be sent into the workplace by Jesus. I went to church, but instead I needed to be joined to others as sent disciples who prevail against the gates of hell.
Am I a missionary? When I began this journey, no organization sent me across the corn field. No one was calling me a missionary. But I believe that Jesus sent me.
"As the Father has sent me, I am sending you." (John 20:21) Is there a greater sending authority? I believe Jesus has called me to join him on his mission. "Go and make disciples of all nations." (Matt 28:19) Is there a greater mission? Jesus gives me opportunities every day to join him in his mission and make disciples in everyday, ordinary environments and situations like work on a farm. Do you want to know Jesus as your sending agent and be an everyday, ordinary missionary like me?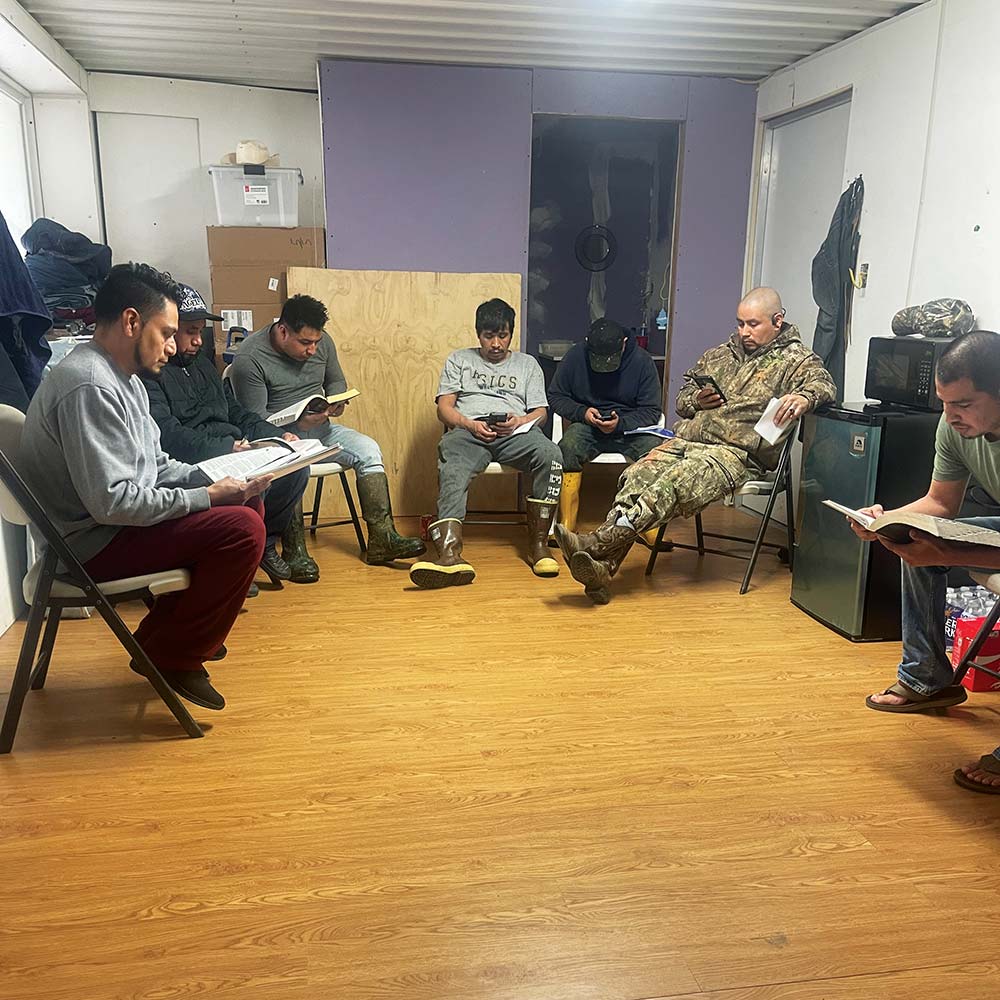 Some of the men gather for a Bible study at the farm.
---
The names of Ben's coworkers have been changed.
Ben Yutzy serves alongside his wife Risa as Marketplace Workers with VMMissions in Timberville, Va.
Filed in: All posts, Transforming